Fuel the Fire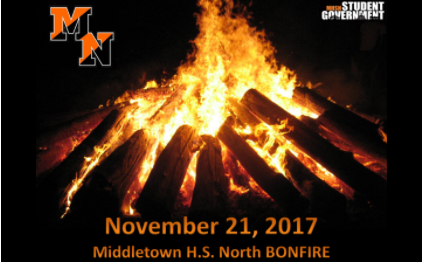 This year Middletown High School North put on their first ever school bonfire and evening pep rally on November 21, 2017. The school introduced all the seniors to acknowledge their commitment and achievements at North to help motivate and congratulate fall sports such as soccer, track, and football.
Many programs dedicated their time to the big event including the cheerleaders set up the football field and also delivered a stellar performance during the halftime ceremony.  The band played amazing music throughout the event, creating a ceremonial feeling that everyone is bound to remember.
In response to being asked about the bonfire, one of the students said, " I really think this is nice. It is new and we get to say thank you to all the seniors that play these sports and for putting their time into playing."
For the first time the bonfire has been part of the school.  It was new and exciting, a much preferred alternative to all the students gathering in the gym, where it is hot and crowded.
The bonfire was a new idea introduced by Jon Scala, History teacher at MHSN, in an effort to create more school spirit and appreciate all of the people that put their time and effort into making the school a better place.
Overall, the bonfire was a huge success and will now be part of an annual tradition at Middletown High School North.