Yes they Ken!
Middletown North shocks Colts Neck in playoff thriller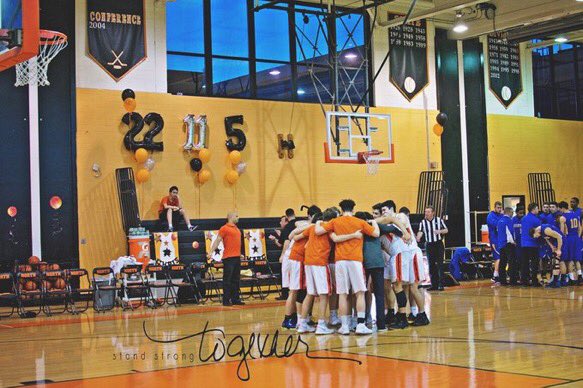 Hang on for a minute...we're trying to find some more stories you might like.
As play resumed with 4 seconds remaining in the fourth quarter of Middletown North's first round bout with Colts Neck in the New Jersey state tournament, everyone in the crowd assumed one of the Lions' big time shooters would get the ball. With deep ball threats like Rob Higgins and Marc Cerbo on the floor, no one suspected a man with no three pointers made on the season would have the ball from beyond the arc as time expired with North down 53-51.
But, low and behold, three-less senior Chris Kenny was tasked with heaving up the final shot. The ball left his hands and circled around the rim for what seemed like ages; but finally, the shot went in. North escaped with a 54-53 victory.
"It was (supposed to be for Higgins), but I had confidence being the kid to hit the shot just like he did," said Kenny following his heroics. Though his shot that led to pandemonium of the highest degree erupting in a Vesuvius-esque fashion is what will be remembered, his clutch board to secure possession for the Lions moments before was critical to the game's outcome.
"I just wanted it more than they did," Kenny, who totaled nine points, said of the rebound in question.
Despite not getting the final shot, Higgins led the boys with 20 points on the evening. Junior standouts Dave Campbell and Sky Cherry added nine of their own, along with solid defense, to help propel North to the second round of the state tournament.
As the game ended and emotions overcame the crowd, none seemed more relieved and excited than senior Isahiah McDowell, who was visibly tearful but all smiles on the court.
"Never cried so hard before…glad our season is still alive," said McDowell, who is a constant threat on both sides of the ball off of the bench, via Twitter.
In what can only be described as a roller coaster season for the Lions, the group is heating up at the right time and has all the momentum in the world heading into the final games of the year. If New Jersey hadn't been on notice prior to this evening, they are now.
(Media courtesy of Middletown North Basketball on Twitter)