An Interview with the School Mascot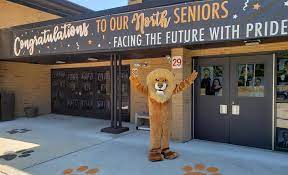 This week we met Middletown North's high school mascot Tommy Lorenson (9) and he was so excited to be interviewed about his experience. 
We asked Tommy a few questions about being the new full-time mascot and how it feels to play such a big part in our school spirit. We also asked Tommy numerous questions about why and how he became the mascot, along with his favorite parts about the experience. His answers were everything we hoped for. 
"Giving the kids hugs, high fives and fist bumps are what makes my day when at the games," Tommy said. 
He also talked to us about how he loved the crowd and the roar of the game. Not everything is perfect when in the lion suit.  There are also difficulties that come with playing this part. 
"The suit can get pretty hot at times and sometimes the kids like to pull on the lion tail," Tommy explained when speaking about some of the more challenging parts of his role.
Although there are highs and lows to representing the school, Tommy never takes the smile off his face. He is dedicated to keeping the lion spirit alive and shows this by bringing his enthusiasm onto the field every game. Tommy is the definition of what being a lion really means, and we can't wait to see him continue to thrive throughout the rest of the school year.