Welcome to Middletown HS North Principal Kevin Cullen
As the 2022-2023 school year begins, Middletown High School North welcomes Mr. Kevin Cullen who will now serve as the Lions' new principal.  Mr. Cullen was the former principal at Navesink Elementary School. Principal Cullen will replace Dr. Patrica Vari-Cartier, who has accepted a new position within Middletown as the Secondary Programs Principal for the entire Middletown Township Public School District.
Principal Cullen, who was a product of the Middletown Township Public School system and graduate of the class of 2000, is excited to lead Middletown High School North.  Principal Cullen also previously served as Vice Principal at Bayshore Middle School.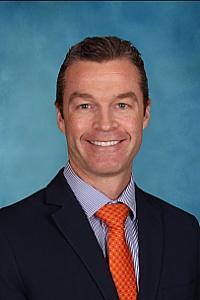 Prior to becoming an administrator, Principal Cullen was a passionate Social Studies teacher and successful varsity basketball coach.  Principal Cullen's positive energy and leadership qualities have been recognized since the time he began his employment in Middletown.
As a teacher, his dedication to driving deep conversations and establishing academic rigor was infectious.  As a successful coach, his ability to lead young adults was undeniable.  During the 2008 and 2010 varsity basketball seasons, the Asbury Park Press recognized Principal Cullen as Boys Basketball Coach of the Year during his time at Middletown High School South. 
"I am excited about the enthusiasm within my school district. Middletown has an amazing community of schools with a powerful shared vision. I am eager to assist in the implementation of new initiatives that will support the development of our students in my new leadership role," Cullen stated.
Since the first day of school, Principal Cullen has been seen positively impacting the student body by engaging in genuine exchanges and visiting classrooms. He has already been seen at numerous sporting events, including Friday night's 21-14 victory for the Lions over Central Regional. 
"Amazing performances fueled excitement and enthusiasm during Friday night's game at Central Regional!  I am truly proud of the energy and commitment to excellence that are so evident throughout our programs," Cullen stated.
Principal Cullen has already established a positive environment of encouragement that has been felt by the Middletown High School North community. 
Principal Cullen's most recent comment about the MHSN Boys Soccer team is a prime example of his influence.  In a recent Twitter post, he stated that this year he will be "emphasizing teamwork and the collective achievement of established program goals."
Welcome to Middletown High School North Principal Cullen.  The Lion community is excited to follow your lead during the 2022-2023 school year.