Middletown North Choir Members Perform for All-Shore Chorus Concert
Lion's Roar Staff
February 9, 2018
Hang on for a minute...we're trying to find some more stories you might like.
February 3, 2018- During the 2017-18 school year, choir members from over twenty schools between Monmouth and Ocean County participate in the 55th annual All-Shore Chorus program.  Middletown North's successful choir program has been led by Peter Isherwood for thirteen years and his program has produced some of the most talented performers in the state of New Jersey.  On Saturday, these talented Middletown North performers participated in the All-Shore Chorus Concert at Monmouth Regional High School.  This concert is a reflection of the amazing work that Mr. Isherwood and the Middletown North Choir have been putting in over the past year.  Middletown North has produced 11 members this year to represent the choir program which includes: Michael Welsh, Sara Welsh, Dalia Habiby, Laura Pisciotta, Amelia Ainbinder, Thomas Waggner, Michael Jordan, Diamond Bullock, Nicholas Giunta, Tyler Davis and Kyle Kennedy.  Mr. Isherwood stated how much of a great opportunity this is for his students and how proud he is of all of them.  Mr. Isherwood spoke to the Asbury Park Press and shared these thoughts, "They are truly talented musicians and each member is very accomplished".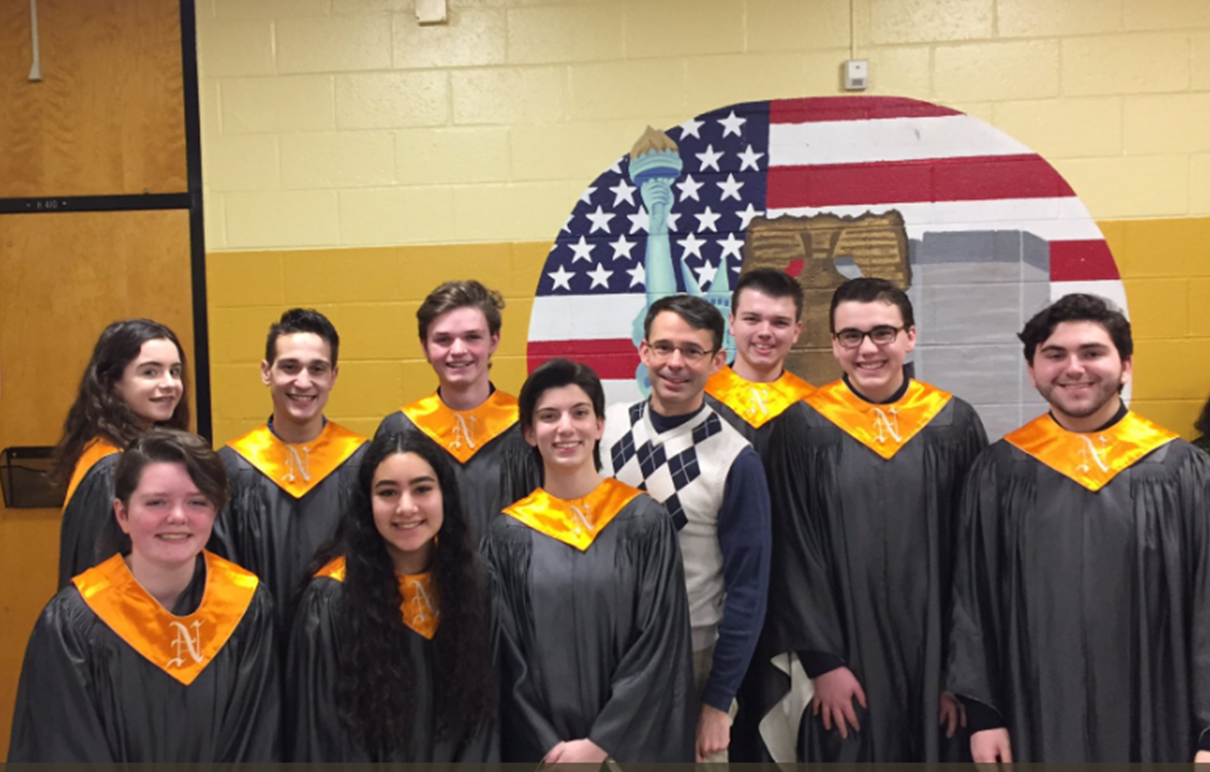 Mr. Isherwood has been an integral part of the success of these musicians and his passion and desire has not gone unnoticed.  However, Mr. Isherwood believes that the success of the program is based on the relationship with the members and the usage of certain music material that traditionally has been successful. "You conduct pieces that you love doing or that students have had success with" stated Isherwood.
The Middletown community is extremely proud of Mr. Isherwood's choir program and the young men and women representing the All-Shore Chorus program.  The Middletown North Choir has performed throughout the year at sporting events, winter concerts and will also be performing in the Spring Concert that Middletown High School North hosts annually.
Pictured Above: Back Row (L-R)  Laura Piciotta, Nick Giunta, Michael Welsh, Mr. Peter Isherwood, Tom Waggner, Kyle Kennedy, Tyler Davis.  Front Row (L-R) Sara Welsh, Dalia Habiby, & Amelia Ainbinder.  Not Pictured: Michael Jordan & Diamond Bullock.