MIDDLETOWN, NEW JERSEY – Have you been to an MHSN football, soccer, or other game? Do you like to keep up with school sports? If you have social media, then you should follow the Shore Savages. It is a sports Instagram account that covers the Shore Conference, a conference of athletics for over 30 schools along the Jersey Shore.
The Shore Savages updates its followers on the victorious schools of different games in various sports and different seasons, such as football, wrestling, softball, baseball, soccer, lacrosse, field hockey and more. They also give athlete shout outs from different schools. The account has over 43,000 followers, many of them student-athletes or parents of student-athletes, or simply people interested in their schools' athletics.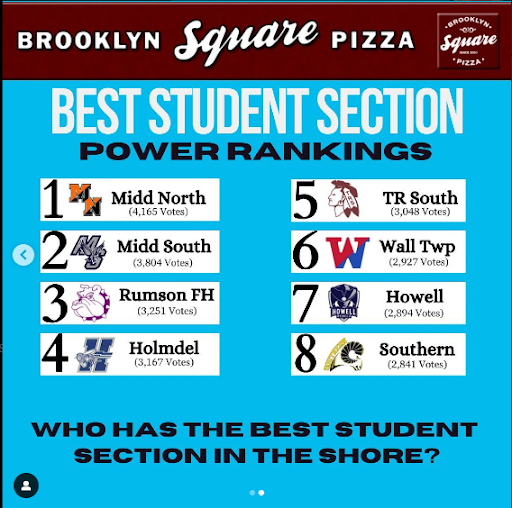 The account recently held a poll on their story where followers of the account can vote on what school has the best student section, in a bracket-like style vote, different sections of the Shore Conference pinned against each other for the best student section.
The finalists, called the "Elite 8", are Middletown North, Southern Regional, Holmdel, Toms River South, Rumson Fair-Haven, Wall Township, Middletown South, and Howell. They also promoted each schools' student section Instagram accounts on their story, giving viewers a sample of each school's student section.
The final power rankings ranked Middletown North Nation the highest, with 4,165 votes saying they have the best student section. Second place went to Middletown South, with 3,804 votes and third place went to Rumson Fair-Haven, with 3,251 votes.