Middletown North Boys Track Repeats as CJ3 Champs
The defending champion Middletown North Lions entered Jackson Liberty's track field intent on making school history. No team in program history had ever won a sectional title in consecutive years. Senior Jack Chenoweth's performances in the 400 hurdles and 400 open, and a surprisingly strong pair of finishes in the discus made that aspiration a reality.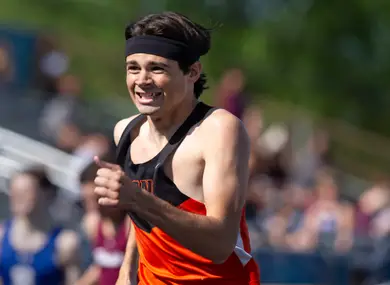 The Lions scored 77 team points to edge out second-place Matawan and third-place Colts Neck to take first in the Central, Jersey Group 3 team race.
"These are hardworking, competitive and humble kids," said head coach Ray Convey. "Winning it back-to-back had never been done in school history, so that was our goal coming in. We got off to a shaky start in the 4×100 so we had to find some points somewhere else, and these kids showed that they're tough and that they know how to persevere. I'm really proud of them."
Chenoweth lived up to his expectations by taking gold in the 400 hurdles on Friday with a time of 55.65, beating out Matawan's William Gardell's 56.14. Chenoweth then added on some team points with a third-place finish in the 400 final.
Juniors Thomas Randolph and Aidan Mauro gave the Lions a much-needed late push on Saturday by taking first and second in the discus. Randolph tossed a 150-4 to take first place while Mauro earned silver with a throw of 146-10. Matawan's Nicolaus Winzer finished in third place.
Senior Matthew Sheehan played a pivotal role in the Lions sealing up the NJSIAA Central Jersey III Title with his overall performance in the Javelin.  Sheehan was the overall CJ III Champion with an overall throw distance of  161-8.
"We were expecting points but they went one and two which was more than we were expecting," said Convey. "That was a huge boost for us. That's the way it goes with two-day meets. You lose points somewhere, and you've got to gain them somewhere else. Those guys stepped up and were huge for us."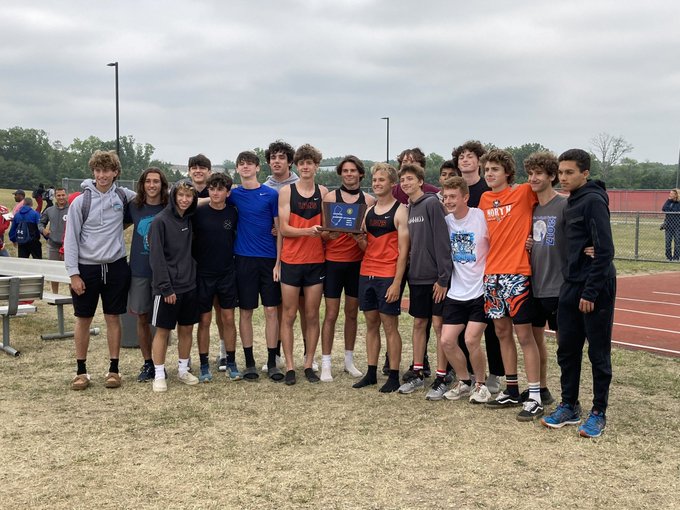 The Lions also relied on its relay teams as the team took gold in the 4×400 relay with a 3:27.47 while the 4×800 team earned silver. Chenoweth anchored that winning 4×400 team, while Aaron Guensch, who finished second in the 800, anchored the 4×800 team.
"With the order of events and the things our kids do, we had to take some of them out of things they normally do and put them in the relay," Convey said. "The kids stepped up so it worked out. All the credit to them. (Chenoweth and Guensch) along with the discus guys really helped us out.
With a history-making sectional title win in the bag, it seems safe to say that the Lions can't be denied as a force to be reckoned with in Central Jersey track and field.
"With (Middletown) North and (Middletown) South, sometimes we're thought of as the 'other' school," Convey said. "Now we've won it back-to-back. I'm really proud of these kids and proud to be a Lion."
State Sectional Champion!!!
🥇 🥇 🥇 🥇 🥇 🥇 🥇 🥇 Congratulations ⁦@mattsheehann18⁩ Thank you ⁦@MNtrack⁩ ⁦@kalmanr2⁩ ⁦@MHSNXC_Track⁩ #prouddad #hardworkpaysoff pic.twitter.com/02afG6HkZ5

— David Sheehan (@MrsheehanPE) June 3, 2023