Middletown North Baseball Captures Back to Back CJIII Championships
Original Story via Sean Miller
Last year, the Middletown North baseball team was sitting at .500 on May 11, before stunning the NJSIAA baseball world with a run to the Group 3 state title.
So it was no shock the the Lions were back in the Central Jersey, Group 3 sectional championship game Friday.
The shock came from the team in the other dugout. Jim Maher's Lawrence Cardinals, who had not even made a sectional tournament in a decade, and who had come into the 2023 season without a winning record since 1997.
But that is what Maher does with programs: this was his 10th sectional title game, with four different schools (Florence twice, Hamilton West six times, Nottingham once, Lawrence once). Much like Ryan McCabe's team last year, no one expected fourth-seeded Lawrence to be in this situation this soon. With that as the backdrop, it was third-seeded Middletown North that won another trophy, picking up a 10-6 victory.
The Lions (17-8) will now host next week's Group 3 Central/South state semifinal Monday against South Jersey, Group 3 champion Mainland (13-13), the ninth seed which stunned second-seeded Delsea with four runs in the top of the fifth to win 6-4.
Jason Quardt had a two-run single in the bottom of the third, and Colby McMahon added another two-RBI single in the bottom of the sixth, as the big blows for the hosts.
Middletown North had six hits in the bottom of the third to take a 5-0 lead. Michael Hallard picked up a one-out double, then came in to score as Ryan Frontera singled and moved to second on the throw, then moved to third on a wild pitch. It was 2-0 one batter later, as RJ Kernan's sacrifice fly brought home Frontera
The hosts went right back to work with four-straight singles, culminating in Quardt's hard-hit ball through the infield to make it 5-0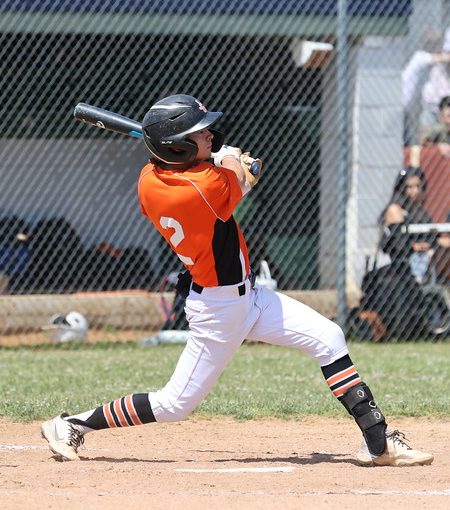 It looked like the Lions were on the way to a 10-run rule victory after Hampton doubled home a run with two outs to make it 6-0, and Dylan Briggs singled home two more on the next pitch to make it 8-0.
But the Cardinals did not go away quietly, scoring four unearned runs with two outs in the top of the fifth.
"Uncharacteristically, we didn't play good defense early," Maher said. "We made some mistakes in the outfield that led to a few runs, which we normally don't do. We made 37 errors in 27 games coming into today. Our pitching made some mistakes with two strikes, and we didn't bail them out defensively. But to our kids' credit, we were a swing away from maybe tying the game up.
"We got it to 8-5, and we fought right to the very end."
Giovanni Brogle hit a solo home run in the top of the sixth to make it 8-5, and it looked like Lawrence was going to keep the rally going. But Quardt made a stunning diving catch on a ball near the left field fence to quell the Cardinals' resurgence.
"A couple of us were talking about that afterwards," McCabe said. "If he made that catch in practice, I would have said it was one of the best catches I have ever seen. The fact that he did it then, I have to say that is the best catch I have ever seen in a high school game.
"Him and Dylan get to almost everything that is up in the air, and I would by lying if I didn't say I was concerned when that ball was still traveling. He made a heck of a play."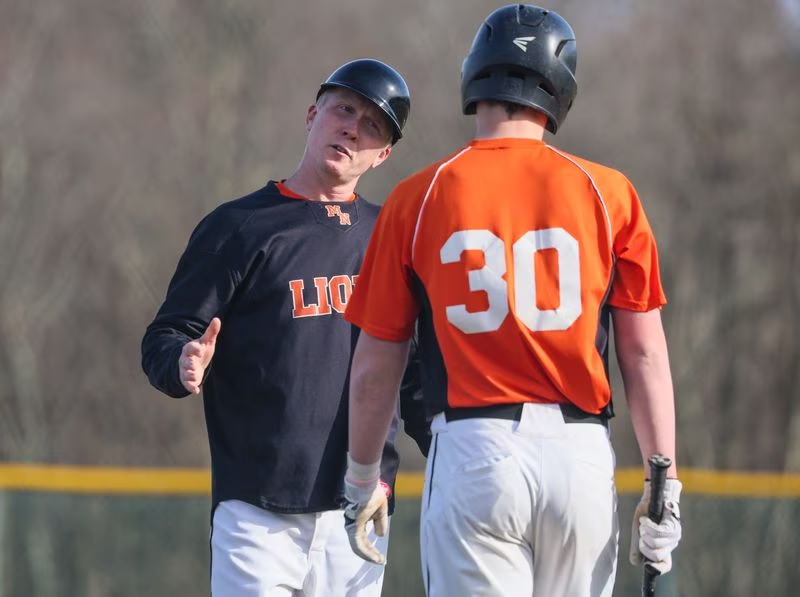 Middletown North then picked up two more runs in the bottom of the sixth (which turned out to be huge) after the big play, as a Frontera walked with one out to reach base for the third time. He proved to be the rally-starter on the afternoon–Frontera scored all three times he reached base–after Kernan reached base when his pop up was lost in the sun and Dylan Briggs walked to load the bases with two outs. McMahon then single home two runs to make it 10-5, before the visitors scored twice in the top of the seventh.
"Colby has had a bit of an up and down year," McCabe said. "But you could argue he was the MVP of our sectional run last year, and he had three RBI in the final last year. He did it again today, and he just seems to have a knack for getting big hits in big situations."
For the Lions, they are now seven innings away from a repeat trip to DeMeo Field and a shot at back-to-back state titles. They already have a third major trophy in 12 months, something that not many people outside their locker room would have thought possible when Middletown North was 10-10 on May 11, 2022. 
Since then, McCabe's team is 28-8: the Lions also started 2023 2-5, and are now 15-3 since. Oh, and they are 10-0 in the state tournament since the start of last year.
"We are really focused on the process during the year, and things kind of clicked as the season got a little longer," McCabe said. "This year, we had some guys back, and I just think it clicked a little sooner for us."
For Lawrence (21-7), the season ended as a resounding success. The Cardinals picked up their first winning record since 1997, as well as a first Colonial Valley Conference Valley Division title since 1997 as well. Maher's team set a school record for wins, and will return nearly all of its roster next season intact as the clear favorite as the top CVC program for 2024.
"I could have never imagined this," Maher said. "I thought we had a chance to be pretty good when I saw us in the preseason. But to say that we would win 21 games, go 12-1 in the conference, and reach a sectional final, no way. No way.
"But we got some confidence early in those early season games, and we kind of played off that. We just got more confident as the year went on."