Chrzan's 37 saves send Middletown North Hockey back to Public B Final
When Jack Turner scored an end-to-end highlight reel goal to give Middletown North the lead with 3:01 left with a trip to Prudential Center on the line, Luke Chrzan couldn't allow himself to get caught up in the moment.
"I know the team, they were absolutely electric," Chrzan said. "Me, on the other hand, just no thoughts. Absolutely no thoughts. That's what runs in my head."
That calmness in net is why Chrzan has thrived since taking over as Middletown North's starting goalie last season. The senior, who was named a captain despite his quiet demeanor, has posted a .922 save percentage this season after leading his team to a Public B final appearance last winter.
"We made him a captain this year because the guys in the room obviously respect him," Middletown North coach Don Wood said. "He doesn't have to say anything. When he does..the kids will be talking amongst themselves, but when he talks, everyone shuts up and listens. If he sees something out there, he's going to tell the guys."
"He's a man of few words. But everything with him…I don't have to worry about him. I can just let him be."
Chrzan's play spoke loudly in Wednesday's Public B semifinal.
He stopped 37 of 38 shots, including 12 in the third period, to lift second-seeded Middletown North, No. 17 in the NJ.com Top 20, to a 2-1 win over sixth-seeded and No. 20 Ramapo in the NJSIAA Public B semifinals at Essex County Codey Arena in West Orange.
It marked Middletown North's second-straight state final appearance, after falling to Northern Highlands in last year's final. It will take on fourth-seeded Chatham in the championship game on Monday at 3:30 p.m. at Prudential Center in Newark.
Chrzan, a senior, has posted a remarkable .943 save percentage in seven state tournament games dating back to last winter. He has been instrumental in his team's success over the past two years in leading his team to two-straight trips to Prudential Center.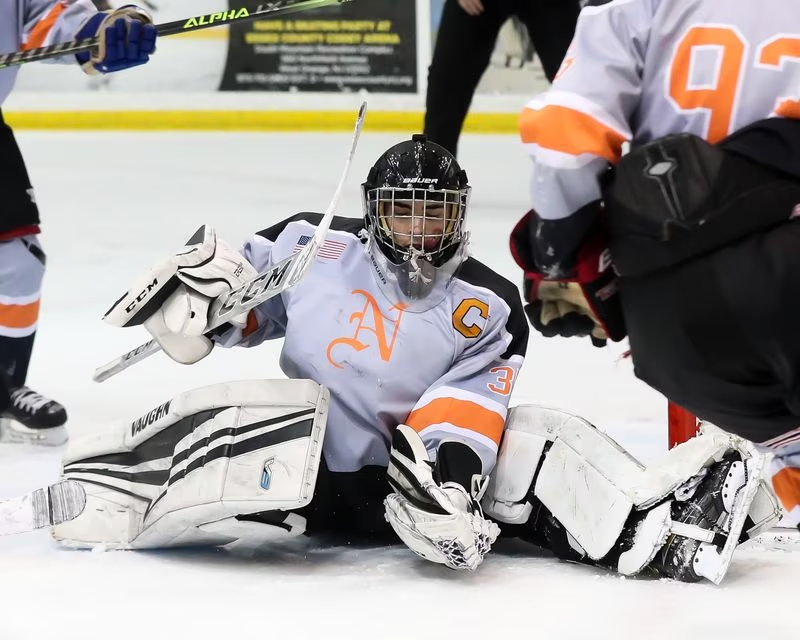 "For my money, he's the best goalie in the state," Wood said of Chrzan. "He's gotten us to the state final for the last two years. I'll take him any day of the week. He's the best goaltender in program history with what he's done. Most nights he saves us, and if not, we know every night he's there we have a shot to win."
His performance helped Middletown North stifle a potent Ramapo offense, holding it to just one goal in the game despite a 38-26 shot disadvantage. Joseph Wall gave North the lead early in the game, before Ramapo's Danny Mauriber scored just over a minute later to tie it.
Ramapo had the shot advantage, and it had four power play opportunities to try to take the lead. But Middletown North shut it down, and that set the stage for Turner to bury the game-winner late in the third.
While it was admittedly not as dramatic as Middletown North's comeback from down two goals to beat Rumson-Fair Haven in the final 1:30 of last year's semifinal, it was still a moment that Turner cherished.
"It feels awesome. Especially from last year and how we made it to the Rock," Turner said. "Down 3-1 with 1:30 left and scoring two goals…this wasn't as good as that, but it still feels amazing to be able to do that for my team."
Once Middletown North got the lead, Chrzan was able to shut the door the rest of the way. Ramapo had several quality opportunities in the final minute with the goalie pulled, but the senior made the saves he needed to, to secure the win.
"He's been amazing the whole entire year," Turner said. "We can't thank him enough. He was even better this game, especially down the last stretch there when they pulled the goalie and they were peppering him with shots and saving everything. Without him, we wouldn't have won."
Now, Middletown North has its sights set on finishing what it started last year. The 3-1 loss to Northern Highlands in last year's Public B final has stuck with the Lions all year, and it's a group that is determined to capture the program's first state championship since 2014-15.
"It's been the only thing we've talked about since the beginning of the season," Turner said. "We've worked hard all year to get to this goal, and now we just have to finish the job on Monday and bring a championship back to Middletown."
SCORE! Jack Turner puts Middletown North up 2-1 with 3:01 to go! pic.twitter.com/IVOl1Y2WMS

— Mike Gurnis (@MikeGurnis) March 2, 2023