Middletown North Hockey Is Melting the Ice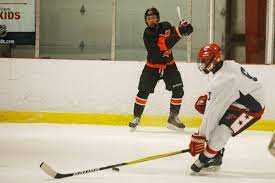 The 2021-22 Shore Conference Ice Hockey season has displayed some hot play by the Middletown High School North.  The Lions have won their last five games and are ranked in the Top 20 by www.nj.com.  The frustration of their season opening loss to crosstown rival Middletown High School South has prompted to go on a two week stretch that featured wins against: Marlboro (6 to 1), Rumson Fair-Haven (6 to 3), Monroe (2 to 1), Wall (11 to 3) and yesterday's shutout victory over Freehold Boro by a score of 10-0.  The Lions offense has been an a tear the last two games in which Jack Turner scored four goals, Colin Delanzo  and Joseph Wall each had three goals vs Wall High School.  The Lions selfless play has been noticeable as Andrew Gross had four assists, Cole Kroeper finished with 3 assists and Trystan Frain with two. Colin Delanzo had an assist as well.
In the game versus Freehold Boro, the Lions offensive firepower continued with three goals by Andrew Gross, two by Colin Delanzo and Ryan Cook, while Jack Turner, Joseph Wall and Anthony DiLorenzo each scored one goal.  The goaltending of Luke Chrzan has been impressive as he has stopped 117 of 131 shots for a save percentage of .893% The Lions will host  their next game versus Hunterdon Central on December 21, 2021 at 5:00 pm.
2021-2022 Middletown North Ice Hockey Schedule
DATE
OPPONENT
TIME
12/21
vs. Hunterdon Central
5:00 pm
Pre-Game
12/30
vs. Wayne Hills

In-Season Tournament

6:30 pm
Pre-Game
1/4
vs. Manasquan
7:00 pm
Pre-Game
1/7
@ Manalapan
7:40 pm
Pre-Game
1/13
vs. Christian Brothers
TBA
Pre-Game
1/20
vs. St. John Vianney
5:00 pm
Pre-Game
1/28
@ Southern
6:00 pm
Pre-Game
1/31
@ Gov. Livingston
4:45 pm
Pre-Game
2/1
@ St. Rose
8:00 pm
Pre-Game
2/3
@ Middletown South
5:00 pm
Pre-Game
2/6
@ Mahwah
3:45 pm
Pre-Game
2021-22 Middletown North Roster
5 Trystan Frain D Senior
10 Joseph Wall F Sophomore
12 T.J. Wolf F Senior
13 Jace Koenigsmark F Senior
20 Cole Kroeper F Junior
21 Jack Turner F Sophomore
23 Christian Betten F Senior
27 Jake Yaroli F Senior
31 Tyler Armagan G Sophomore
33 Michael Carmody G Sophomore
36 Sean Crane F Senior
39 Matthew Turrisi F Sophomore
Thomas Baron Junior
John Betz Senior
J.J. Bifulco Senior
Mike Botti Junior
Zach Brady Senior
Luke Chrzan Junior
Ryan Cook Sophomore
Colin Delanzo Senior
Anthony Dilorenzo Senior
Andrew Gross Junior
Lachlan Haegar Junior
Tom Macrae Senior
Jimmy Mullarney Junior
Charles Timmes Senior
Cover photo via nj.com