According to Middletown High School North Head Coach Steve Bush, "Tommy has grown a lot. He's just much more confident. He's got a good group of receivers and we protect him well."
Middletown North played consistent football throughout the night.  Routinely converting on third down and keeping the offense on the field for extended periods of time.  Explosive plays also led to a key score for the Lions offense early in the game when Giannone hit receiver Levi Wilson for 36 yards to set up a four-yard rushing touchdown that gave the Lions a 6-0 lead in the first quarter.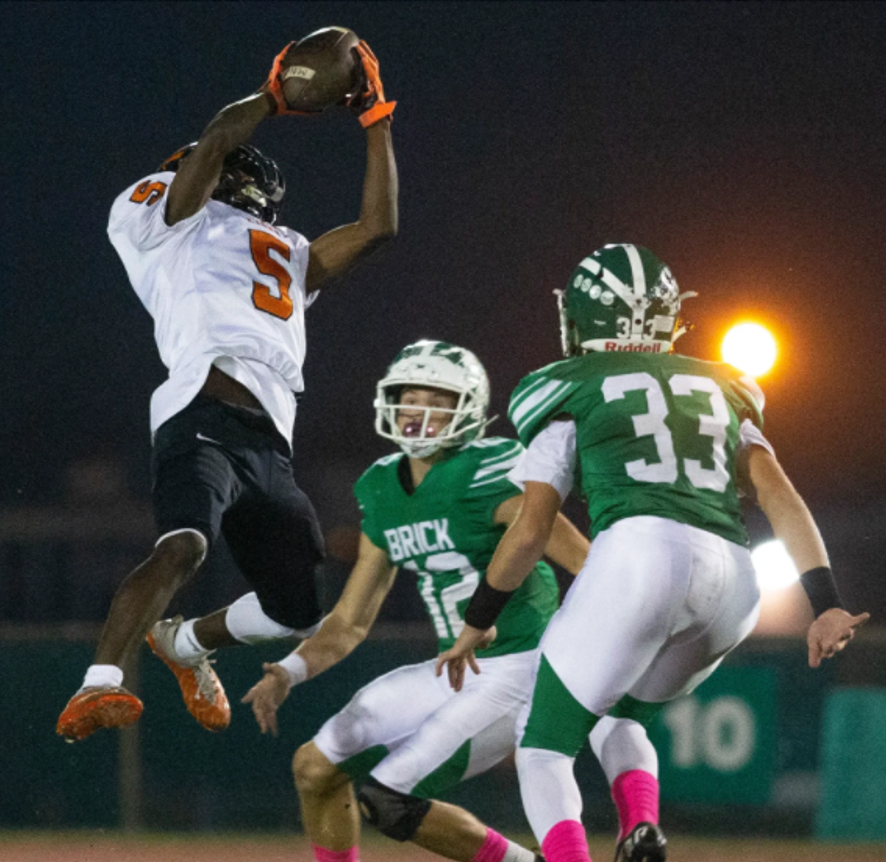 In the second quarter, Giannone drove the Lions unit down the field in the final moments of the first half and hit Wilson for a two-yard score and a two-point conversion with just seconds to play to turn an 8-6 deficit into a 14-8 lead going into halftime.  The Lions also received contributions from star running back Brian Haddow, who helped clinched the game with his punishing runs and a one-yard score in the third quarter. He finished the contest with 85 rushing yards.
The Middletown North Lions defense also showed up to play while shutting down Brick's fierce ground game.   The Lions shut out the Green Dragons offense during the second half and only allowing a first half score that was a result of a short field possession after a blocked punt in the second quarter.
Congratulations to the 2021 Middletown High School North Football Players, Coaches, Cheerleaders and Staff on being crowned as the Independence Division Champions!
GAME STATS RECAP: Middletown North 22, Brick 8
Middletown North (4-1)
Brick (4-2)
First quarter scoring
MN: Wilson 4 run (kick no good)
Second quarter scoring
B: Grygiel 4 run (2 pt conversion good)
MN: Wilson 2 pass from Giannone (2 pt conversion good)
Third quarter scoring
MN: Haddow 1 run (2 pt conversion good)
Individual statistics
PASSING – MN: Giannone 12-15-0-165. B: Grygiel 5-11-0-80, Kurc 1-1-0-7.
RUSHING – MN: Haddow 19-85, Soto 5-20, Wilson 3-2, Cerbo 1-11. B: Weisneck 15-77, Grygiel 5-12, Kurc 2–13, Norman 1–2.
RECEIVING – MN: Cerbo 5-112, Wilson 3-46, Haddow 2-1, Searight 1-4, Soto 1-1.
*3 story photos via Doug Hood of the Asbury Park Press