Divisional Race Gets Rained Out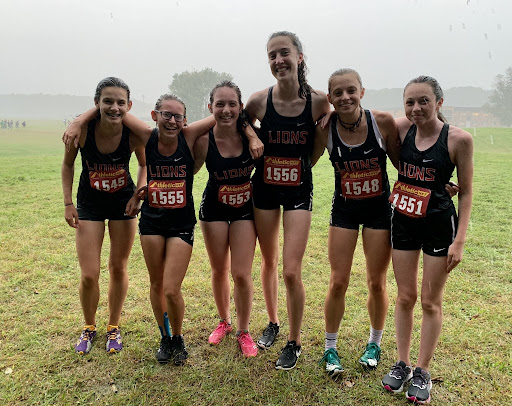 From left to right: Lauren Dorazio (9), Kaitlyn Pedersen (12), Emma Neenan (10), Erin Zabriskie (12), Hailey Guerrieri (12), Alexa Laneve (9)
FREEHOLD – On September 23, 2021, the Lions Cross Country team traveled to Freehold Township High School to race in the A North Divisional Championship meet. However, only Varsity boys were able to score before thunderstorms prevented the rest of the races from occurring. 
Varsity boys started out the afternoon as dark clouds formed overhead, alerting teams of the impending downpour. Top finishers were Connor Kinch (12) finishing in second place overall, Aaron Guench (11) coming in tenth overall, and Jack Ruthermund (11) finishing close behind. Orlando Faria (12), Jorge Rivera (senior), Ryan Pagano (11), and Manny Villa (12) also had strong performances in the varsity race and helped the boys move up to 4-2. Overall the boys had victories over Freehold Township, Long Branch, Marlboro and Middletown South High Schools.
The gun went off for the varsity girls race thirty minutes later as it started to rain. As the girls reached the one mile marker, weather conditions worsened. Heavy downpour and clapping thunder prompted officials to cut the meet short without letting the runners finish their event. The Junior Varsity races for boys and girls were also canceled due to the storms.
This was only the third race of the season; the Lions XC team still has plenty of meets to compete in. Their next meet is on October 1, 2021 at Holmdel Park where they will be running in the Shore Coaches Invitational. 
As of right now, it is unsure whether or not there will be a rain date for Varsity girls and JV runners to run in the divisional race. Either way, the rain was an interesting and entertaining surprise for the team and there are still many races left for runners to improve their times in the future.