Lady Lions Basketball is Ready to Roar this Upcoming Season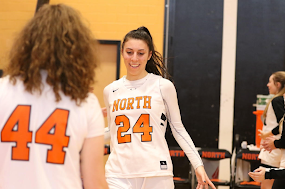 As seen last November, many of the fall sports seasons of Middletown North were cut short due to the rise of Coronavirus cases in Monmouth County and the community. However, as we look past the sad reality of 2020, 2021 is starting with North's winter sports teams gearing up for their shortened season. After pushing through many barriers and obstacles, Middletown North's winter athletes are more than ready to compete against the neighboring competition as well as the Coronavirus pandemic itself. 
Middletown North Lady Lions basketball had their first scrimmage of the season on January 20, 2021, against Shore Regional. Dickinson College Women's Basketball commit, Sophia Memon, 12, said that the scrimmage went well. The girls know what they need to work on during practices and they have high hopes of having a successful season this year. 
When asked about her feelings regarding the upcoming season, Memon responded, "I am looking forward to the season even with the restrictions. I'm honestly just happy to be able to play." 
The ability for seniors to participate in their final high school career games excites them. Some key players to look out for this season include William Paterson University Women's Basketball commit, senior Victoria Palladino, starting juniors Patty Walsh, Lexi Fernandez and Ronni Brucato, sophomore Charlotte Memon and rising freshman star Maddy Marcotte. 
With an athletic squad like this under the guidance of Coach McGhee, this basketball team's season looks promising.  The girls basketball team's first official season game against Matawan Regional will be held on January 28. The Lion's Roar staff wishes the team the best of luck as they continue practicing for a historic season.