Katelyn Reid Commits to UCONN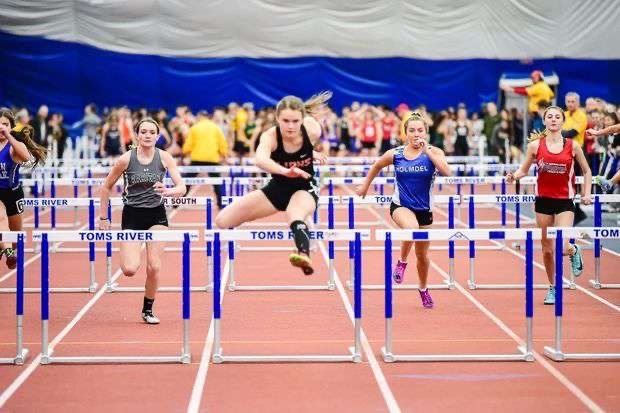 Michael Murphy, Staff Writer
February 6, 2020
One of Middletown North's most successful athletes has finally decided where she wants to continue both her academic and athletic career. Katelyn Reid (12), a member of both the Varsity Soccer and Track and Field Programs, has decided to continue her track and field career at the University of Connecticut. 
In Track and Field, Katelyn's top event is the high hurdles, specifically the 55 hurdles. 
"Winning Monmouth County, Shore Conference, and state sectional titles in the 55-meter hurdles has helped me to gain more confidence and like the event more," she stated in an interview with The Lion's Roar.
Not all her track success comes from running events. Much of it is also displayed in field events such as the long jump and the high jump. During the outdoor season of her junior year, she won both the 100 meter hurdle and high jump on the same day. 
"Winning two sectional titles on the same day is something that I will remember for the rest of my life. I was very proud of myself when I accomplished this." 
Now entering her senior and final year as a Lion, she will be competing for more titles and school records to add to her resume. Already, she has won the 55 hurdles at both the Monmouth County and Shore Conference. In the field, she placed first in the high jump at the Shore Conference Tournament (tying the school record of 5'4) and long jump at the Varsity Classic, where she also beat the triple-jump school record. Katelyn also broke her own record in the Shuttle Hurdle Relay alongside her teammates Olivia Kelty (11), Hailey Guerrieri (10), and Katie Mayhew (10). 
The University of Connecticut is a highly competitive school with a talented Track and Field program, something that Katelyn fell in love with. 
"The second that I stepped foot onto UCONN's campus I fell in love. I immediately knew that this was the college that I wanted to go to. UCONN has everything that I had ever dreamed about a college having, every single one of my boxes has been checked off and I am beyond excited to be a student-athlete there." 
With meets such as State Sectionals, Group 3 Championships and Meet of Champions coming up, she will be looking to continue competing at a high level and earning even faster times.