2020 Middletown North Hall of Fame Class Announced
The Middletown High School North Hall of Fame Committee has announced the selection of the 2020 Hall of Fame class. The seventeen member committee narrowed their final list to twenty six before casting their final votes for this year's inductees. In order to be inducted, nominees must receive a 75% "yes" vote by the committee. This year's group features some very talented Middletown North and Middletown Township High School  athletes that have left their impact on the Middletown community. The 2020 class features twelve selections and the Distinguished Alumni Award winner that will be recognized during the Hall of Fame Ceremony on May 7, 2020 at Middletown High School North.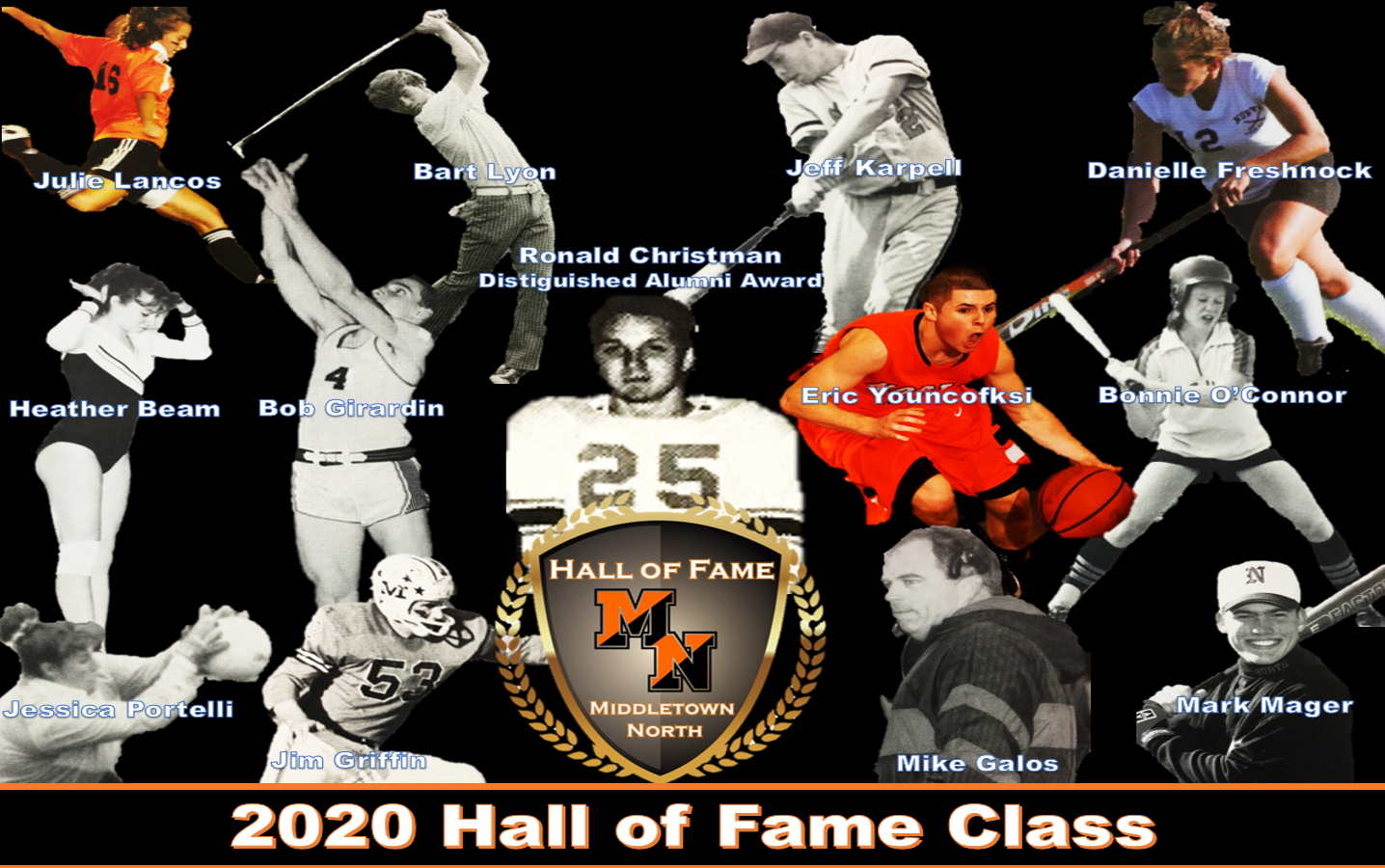 This year's inductees are:
Heather Beam (1992)
One of the most decorated gymnasts in MHSN history. Heather was a three time All Shore selection (1988-1990), including being selected as a 1st Team choice her sophomore year and 2nd Team All Shore as a freshman and junior. During her sophomore campaign, Beam qualified for the state finals with a sixth-place 35.2 al-around in the CJ Sectionals, including a 9.15 third-place finish on floor. Her 34.25 all-around finish in the state meet was the fourth best finish from Shore area competitors behind O'Keefe, Woomer and D'Amato. One of her biggest accomplishments was helping the Lions knock off traditional Shore powers Red Bank Catholic and Rumson in regular-season meets. As a freshman, Beam was a second-team All-Shore selection and placed first in the USGF Class II state finals and 12th in the Eastern Region VII gymnastics meet.
Danielle Freshnock (2010)
Danielle was recognized as an All Shore selection in Field Hockey and also was a member of the 2006 State Championship team. She was appointed as captain of the field hockey team while at Middletown North and continued her playing career and also served as a captian at Rutgers University. Freshnock was the fourth-leading scorer in the Shore Conference during the 2009 season with 21 goals and 1 1 assists for 53 points. Freshnock led the Lions (16-6) in scoring for the fourth straight year. Middletown North finished second in Class A North(2009) after winning the division title the previous three years. Her biggest highlight of the season was when she scored the game-winning goal in a 3-2 victory over St. John Vianney in the Shore Conference Tournament semifinals. Freshnock scored on a penalty stroke with 2:42 left in double overtime in that game. For her career, she had 74 goals and 49 assists for 197 points.
Mike Galos (1988-1999)
Head Football Coach
Mike Galos has always been a winner – both on and off the field! A player's coach, he garnered 53 wins as the Head Football Coach of the Lions. This still ranks him as the third winningest coach in over 100 seasons on the gridiron for the Orange and Black. His 12 years at the helm also ranks third behind Coach Arnie Truex (21) and Coach Lew Blood (13). During his tenure as an Assistant Coach and Head Coach, the Lions had a record of 132-93-7, captured five Division titles and produced three State Championship seasons.
Mike began his career in 1963 for an undefeated freshman football team at South Plainfield High School. He moved up to the junior varsity the next year, and then was the starting center for the Tigers in 1965 and 1966. In his junior year, South Plainfield won the Central Jersey Group 3 championship. In 1966, his senior season, the team finished 7-2 with close losses to Woodbridge, 8-7, and North Plainfield, 9-7. During that season, Mike had his first exposure to Middletown and the field on Tindall Road when the Tigers shut out MTHS, 13-0 in 1966. During the game, he locked horns with future Lion Hall of Famers Dave Siegfried and Mike McCray.
Mike then went to Montclair State College and earned a B.A. degree in Physical Education in 1971. He stayed on at the college as a Graduate Assistant in the Athletic Department, while completing a Master's Degree in Physical Education in 1972. During this time, he became involved with the Sports Information Department and covered the Athletic Teams for the School as well as writing sports for the school paper, the Montclarion.
Before embarking on a teaching and coaching career, Mike worked part time as a Sports Writer for the North Jersey Herald News in 1969 and 1970. During the summer of 1970 he was fortunate to cover the Mets and Yankees, as well as the Little League World Series (won by the team from Wayne, NJ). In the Fall of 1970 he moved to the Newark Evening News and covered local sports.
When the Newark News went out of business in 1971, Mike made the decision to switch careers. With the guidance of Clary Anderson, the legendary football coach at both Montclair High School and Montclair State College, he accepted a job in the Middletown Township School District. He began his new career at Thompson Junior High School in the Fall of 1972. He was also appointed as the Head Football Coach, with Bill Moore serving as his assistant. This was the first year that Thompson, Bayshore and Thorne had separate teams. He continued as the head coach until 1975.
In 1976, Galos moved up to coach the Offensive Line at Middletown High School North. He worked under the legendary coach, Vic Kubu, whom he credits as his mentor. He will tell you to this day that everything he learned and accomplished in football is due to his relationship with Kubu. This combination worked well as the Lions captured Division titles in 1976, 1977, 1981, 1982 and 1983, including a mark of 23-0-1 in division play from 1980 – 1984. In 1983, the Orange and Black finished with a school record of 11-0-0 as they claimed the C.J. Group IV championship with an exciting 6-0 win over Hunterdon Central.
When Kubu moved on to Manasquan High School in 1985, Galos remained as the Line Coach under the new Head Coach, Don Ayers. This tandem also proved to be successful as Middletown HS North crushed J.P. Stevens in the 1986 State Final to bring the C.J. Group IV Championship back to Middletown. That year, Mike also moved to the high school on Tindall Road as a Physical Education and Health teacher.
After Ayers left teaching to enter private business, Mike Galos was named Head Football Coach in 1988. After rebuilding the program during his first two years, he led the Lions to eight consecutive winning seasons from 1990-1997. This streak is second only to Coach Arnie Truex's 10 straight winning seasons between 1948-1957. During this time frame, his teams compiled a 47-26-1 record, with the ultimate thrill coming when his 1996 team finished 9-2 and claimed the C.J. Group IV title by beating previously unbeaten Hillsborough High School 33-8 at Giants Stadium. This game has often been proclaimed as "The Perfect Game" and ranks in the top 10 All Time Greatest Games played by the Lions! Unfortunately, the playoff rules during that time period only allowed four teams, regardless of having a winning record. If today's rules applied, Mike may have had seven other teams qualify for the playoffs.
In 2000, Mike joined the Wall High School staff under former Lion great, Chris Barnes. Along with other former Middletown North coaches Al Tirpack, Larry McKnight and Willie Lesko serving on the staff, the Knights captured several Division championships and a Group III State title in 2002. After spending a few years away from coaching, Mike returned to Wall as a freshman coach from 2016-2018. The 2017 frosh team finished undefeated and provided many of the players who were instrumental to this season's 2019 Group II State Championship team. One of the players he coached was his grandson, Michael Galos, a wide receiver. In an ironic twist, the younger Galos caught a key touchdown pass in the season opening 21-10 win at Middletown High School – the same field that his grandfather played on in 1966!
Most recently, Mike joined one of his former players, Bob Generelli as a coach in the International Bowl, which was played on January 15, 2020. They coached a team of Japanese All Stars against a team of USA All Stars in a game that was played at AT&T Stadium, the home of the Dallas Cowboys in Arlington, Texas.
Mike and his wife of 46 years, Nancy, have lived in Manasquan for many years. They have three children, Michael, 46, Steven, 43 and Kristen, 42, along with seven grandchildren. All three of his children graduated from Manasquan High School, with Michael and Steven each playing on division and state championship teams for Vic Kubu. Kristen played softball for the Warriors.
Bob Girardin (1963)
A resident of the "Sunken City" section of Middletown off Route 35 (behind Trezza's Deli) in the Fairview Section, Bob Girardin is still considered one of the All Time basketball greats to ever play for the Lions. A two-year starter for Coach Dave Wirth, he teamed with other Lion Hall of Famers Ken Foulks, Kenny Bullivant, and Jim Jenkins, as well as standouts Lynn Davenport, and Jim Hargrave. His emergence as one of the best players in the Shore coincided with the Lions returning to a basketball status they had not exhibited since 1957. In Bob's senior year of 1963, he average 17.4 points per game and hit for more than 30 points in a game on several occasions. His 37 points against Lakewood stood as a school record for 54 years until current Lion ace, Rob Higgins notched 41 points against Middletown South in 2017! Bob earned a B.S. degree in Mathematics from Waynesburg College in Pennsylvania. While there, he ran Cross Country and played Tennis but made his mark on the basketball court. A four-year varsity player for the Yellow Jackets, he set the school record with 1,010 points. In his senior year he scored 523 points to set the All Time season record for the school. During that year, he had a game high 37 points and averaged 22.7 points per game. He earned accolades of 1st Team All West Penn Conference; Honorable Mention – All State and Honorable Mention – NAIA All American! In addition to sports and schoolwork, he was a member of the TKE National Fraternity. Now living in Wilson, NC, Bob worked for nearly 41 years for the Firestone Tire and Rubber Company. On more than one occasion he earned awards for outstanding performance in the technical arena of the tire business, primarily in the quality area and as a Time Study engineer. He also served as a Marine Corps Reservist for six years (1963 – 1967). He was involved in numerous Community Service activities such as coaching and refereeing basketball, Habitat for Humanity and as a Special Olympics volunteer. He has also continued playing basketball into his seventies and has competed in many national 3 on 3 tournaments.
Jim Griffin (1965)
The exploits of Jim Griffin are still legendary more than five decades after he graduated from Middletown Township High School. Born in Hell's Kitchen in NYC and raised in Hudson County, when Jim came to Middletown he became an instant fixture on the athletic scene. A great athlete even in his teens, when Jim entered high school he was a starter and lettered 9 times – three each football, basketball and baseball. On the gridiron, he was a punishing runner and defensive back. In 1964, he was one of the outstanding performers as the Coach Dick Kleva's Lions finished undefeated and finished ranked 4th in the state. Jim led the potent "Quicker than Blink" T-Formation offense as a halfback but also could be counted on to catch the ball. He was an intimidating defensive back who was a leader in tackles and interceptions. All County honors were bestowed upon him in his senior year. Among his teammates were Hall of Famers Dixie Abdella, Jim Jenkins and Rich Veth, as well as the icon, Tom DeMarks. In basketball, Griffin teamed with Abdella, Jenkins, Jim Hargrave and Bob Girardin. During the 1964-65 season, he was an aggressive ball handler and rebounder and helped the Lions finish 17-5 to become the best basketball team since the 1948-49 season.
When it came to baseball, Griffin was primarily a first baseman but could also be called upon to pitch for the Hall of Fame Coach Arnie Truex. He again earned a starting berth as a sophomore and played with Hall of Famers Ken Foulks and Ken Bullivant on the 1963 squad that captured the Division and Group IV State Titles. In his senior year, he was one of the leading hitters and paced the Orange and Black to a 17-3 mark, the best ever recorded in school history at that time. The Lions lost in the state finals that season and Griffin again earned All County and All Shore recognition.
After graduation, he went to Yankton College in South Dakota, where he again put his stamp on athletics. He pitched and played first base for the Greyhounds as they went to the NAIA College World Series in 1969. He earned a BA in Physical Education and holds a teaching certificate. His roommate was the well known Lyle Alzado, who played for the Denver Broncos and Oakland Raiders in the NFL.  Jim served as a police officer in Middletown for many years as a Detective, Traffic Officer and the Range Master in charge of firearms qualifications. He also became a well known umpire for baseball and softball umpire in the Shore area. He also found time to give back to his alma mater as he served as an assistant coach for the Lions. He was the pitching coach when Middletown North won the Shore Conference Tournament in 1986.
Jeff Karpell (1995)
Jeff was a 1995 graduate, whom played under legendary coach Rich Veth. "Karp" was twice selected to the Asbury Park Press All Shore Team including First Team his senior year. He hold the school's career batting average record of .455 and went on to star for Fairleigh Dickinson at the collegiate level. Karpell really stood out as a sophomore earning All-Northeast Conference honors with a .337 average, putting him third on the team and ninth in the NEC. During his senior season, Karpell threw out 9 base runners, ranking him No. 1 all-time for single-season assists by an outfielder. Karpell left his mark in FDU baseball history. During the 1997 season, he slugged 4 triples which still ranks 2nd for most triples in a single season. In 1999, he collected 64 hits and 59 runs batted in putting him second all-time in single season hits and RBIs. To date, he still ranks; seventh in single season hits (64), seventh in triples in a season (4), and third in single-season runs batted in (59). He was inducted into to FDU Hall of Fame in 2015 and is currently a teacher at Rumson Fair Haven High School.
Julie Lancos (2008)
One of the few athletes to be recognized as a 4 time APP All Shore Selection during her amazing career at MHSN. A member of the state champion 2005 soccer team under Coach Nagy. Julie was recognized by the US Soccer Team and accepted a scholarship to Florida State before transferring to Rutgers University. One of the most decorated soccer players in shore conference history, and one of the best defenders in the state, she led a defensive unit that surrendered 1 .33 goals per game over an 11-6-1 season hat netted the program its fourth straight Class A North championship in 2007. Named 2006 Asbury Park Press Player of the Year.
Bart Lyon (1973)
Bart Lyon Bart Lyon has fired some sensational rounds in his four-year golf career, including 63 at Tomahawk, 66 at Beacon Hill, (68 at Jumping Brook and 69 at Asbury Park Golf and Country Coul). Heattended the University of Maryland. A year ago Bart look the District II title with a 79 at Mountain View and then led all ' N.ISIAA goirers at Forsgale will) his 77. Only Art Silvestrone of Montgomery High stood in the way of repeat victories by Lyon this year. Lyon was second in I he districts with a 75, five strokes off Silvestrone's pace, and then tied for second in the stale finals on another 75 as Silvestrone hit 72. His 80 earned him a tie for fifth place in this year's Shore Conference tourney although he then skipped a plavoff. Bart, 5-8 and 135 pounds, also dabbles in baseball. In major non-scholaslic competition, he's played on the stale's Stoddard Cup and 'Jompher Cup teams. The Lions' first-ever individual state champion! Bart won the NJSIAA individual crown as a junior (1972) at Forsgate Country Club. Bart is undoubtedly the most decorated golfer to wear the Orange and Black and the teams that Bart played on enjoyed the greatest run in Middletown history.
As the No. 1 player on the team (but surrounded by a deep and talented team), Bart led the Lions to three consecutive division and overall Shore Conference titles. As a sophomore he went head-to-head with two-time NJSIAA champion Jay Brooks of Monmouth Regional as the Lions won the SC title in a one-hole playoff.  The Lions also won three consecutive NJSIAA sectional crowns and were three-time runner-up in the NJSIAA finals. Perhaps Bart's finest accomplishment was making it through the first round of U.S. Open qualifying in 1973 at Spring Lake Country Club, an almost unheard feat for a high schooler. Bart attended the U. of Maryland before embarking on a business career that culminated in the building of Shore Oaks (Now Eagle Oaks) Country Club in Farmingdale.  Sadly, Bart passed away from cancer in 2010.
Mark Mager (1998)
The 1998 graduate was truly one of the best and most gifted athletes since sports began at the high school in 1913. A three year letter winner in Baseball and Football, his athleticism also enabled him to earn a letter in Bowling.  As a member of the diamond squad, he was a two time MVP (1997-1998), was undefeated (14-0) as a pitcher and holds virtually every batting record. He still holds the record for Career Hits (127), Runs (97), Doubles (31), Triples (7), RBI (74) and At Bats (284). He also ranks high in the Single Season hitting marks with a .494 average in 1998, 45 hits in 1997 and 44 in 1998, 38 Runs in 1998, 4 Triples in 1997, 29 RBI in 1996 and 24 stolen bases in 1998. He led legendary Coach Rich Veth's charges to the Monmouth County Tournament in 1996 and the A North Champs and Group IV State Finals. In 1998, his exploits earned him second team All State honors as a shortstop, Honorable Mention All American (USA Today), 1st Team All Shore while also being voted as both the Most Dominant Hitter and Pitcher. He also was selected to the Carpenter Cup team in his junior and senior years.
Mager also displayed his talents on the gridiron. In 1996, he was a key ingredient as a Wide Receiver when the Lions beat previously undefeated Hillsborough to win the Group IV state title. In his senior football season, he took over the quarterbacking chores and was chosen as the MVP of the Thanksgiving game as the Lions defeated the crosstown rival Eagles. He was named Team Offensive MVP for the season and earned All Shore Honors. He was later named to play in the All Shore Football Classic.  An outstanding student, Mark went on to earn a degree in Economics from Harvard University. He did not leave his athletic prowess behind him as he was the starting shortstop for the Crimson for each of his four years. Once again, he was a standard setter is the career record holder for base hits (208) and earned Ivy League honors in multiple seasons. He also played two seasons in the prestigious Cape Cod League. Mark is a financial professional living in Boston.
Bonnie O'Connor (1977)
A standout softball player during the 1976 and 1977 seasons. O'Connor was recognized as a great shortstop earning All Shore recognition her junior and senior season. She was selected 2nd Team All Shore in 1977 and 3rd Team All Shore in 1976. With the advent of Title 9 legislation, the doors were opened for girls to play high school sports. Bonnie O'Connor was the first great female athlete for MTHS, which became Middletown North, and she is still is a standard bearer to this day. Not only did she take advantage of the new law, she actually lettered in FOUR sports and was a team leader and a winner in each one! Before the law was formally enacted, the only sport available to girls was Gymnastics. She lettered in both 1975 & 1976 as the Orange and Black won the A Division Championship both years. When gymnastics switched to a winter season, it conflicted with her basketball career. Thus, she switched to Field Hockey in her senior year (1977) and scored the First Goal in the history of Middletown North. She was named Captain and recognized as the Team MVP. She played basketball for three years, lettering in her junior and senior years as MHSN won the Class A Division title in both 1976 & 1977 and finished 2nd in the Casey Tournament. She again was selected as a Captain in her senior year. As good as Bonnie was in gymnastics, field hockey and basketball, it was Softball where she became a legend. The Lions inaugural season was in 1975 and Bonnie helped lead Coach Lois Corson's squad to an undefeated season and the Class B Division title. In 1976, she was a key performer along with Linda Trezza, Trish Evans and Mikkie Monaghan as MTHS finished 2nd in the A Division but went on to capture the NJSIAA Group 4 championship – the first for Middletown softball. The team finished 18-3 and was rated #1 in the Shore Conference and Bonnie was selected 3rd Team All Shore as a Utility player. She batted .453 with 6 HRs and 27 RBIs. As a senior in 1977, Bonnie was elected Captain and led the Lions to another championship – this time it was in the A Division. As the leading hitter and a good fielding shortstop, she was named 2nd Team All Shore and the Team MVP. When O'Connor attended Montclair State College, she made a tremendous impact on their softball program. She played four years of varsity softball, beginning with her freshman year when was a pitcher. When she switched to third base in 1980 she led Montclair to a 21-4 record, the EAIAW Division II championship and a trip to the College World Series that was held in Sacramento, CA. The team also participated in the AIAW National Tournament, finishing 7th. She led the team in hits and also set the school record with 4 Home Runs and tied a team record with 19 RBIs. After graduating from Montclair with a B.S. in Physical Education in 1981, Bonnie has worked for the United States Postal Service in Rumson since 1985. She also spent 6 years with the United States Dept. of the Army and the NJ National Guard. She also coached softball at Kean College.
Jessica Portelli Gavini (1993)
4-year starter for the Lions Girls Soccer team. Holds the record for the most shutouts in a single season with 14 in 1992 when the team went undefeated with a 19-0 record and was named MVP that year. She was named All Division and All Shore while leading her team to 3 consecutive Shore Conference Championships. She was named goal keeper of the century. Jessica went on to play at William Paterson and was named 2nd team All American. After college she returned to Middletown and became a teacher at North and coached South to a State Championship. She continues to volunteer as a coach in the community.
Eric Youncofski (2012)
Eric is a 2012 graduate of MHSN is one of the most decorated basketball players to wear the black and orange. Captain and point guard for the 2012 NJSIAA State Championship team whom captained the most explosive offense of the Shore Conference. Recognized as a two time All Shore and All Division selection, Eric was also regonized as a leader to the student body as well. Eric is in his first season at UConn, hired as the Director of Basketball Operations after serving in the same position on Coach Dan Hurley's staff at the University of Rhode Island last season. Eric was a member of the Rhode Island University basketball team under Hurley for three seasons, 2012-15. He earned his degree from URI in Public Relations, with a minor in Leadership Studies, in three years, graduating in 2015. While an undergrad, he was an Atlantic 10 Commissioner's Honor Roll recipient every year and was named to the National Association of Basketball Coaches Honors Court in 2014-15.
After graduating, Youncofski spent two years as a graduate assistant and video coordinator on Hurley staff before his promotion to Director of Basketball Operations last year.
Distinguished Alumni Award:
Ronald Christman (1955)
Ronald is a 1955 graduate of Leonardo High School and has been a fixture at Middletown High School North events for years.  As an athlete, Ronald lettered in football, baseball, basketball, and track.  In 1954, Ronald was selected as All Shore Honorable Mention and All County in football.  He was a member of the 1952 Shore Conference Championship team that went 9-0 on the season while outscoring opponents 196-33.  During his playing career at Leonardo High School, the football program amassed an overall record of 20-5. Christman along with teammate Ed Bibaud, led a fierce backfield that is considered one of the best in Shore Conference football history.  During the spring track season, Ronald was Leonardo's top pole vaulter and held three track records until the 1980's. After graduation, Ronald enlisted in the United States Army and served proudly during the Korean War.  He served as a radio operator of voice and Morse code. For the past 47 years, Ronald has owned and operated his own barber shop in Keansburg, NJ and has also served as a member of the Keansburg Historical Society.