Proud Middletown Alumni Enjoy 100 Years of Football Celebration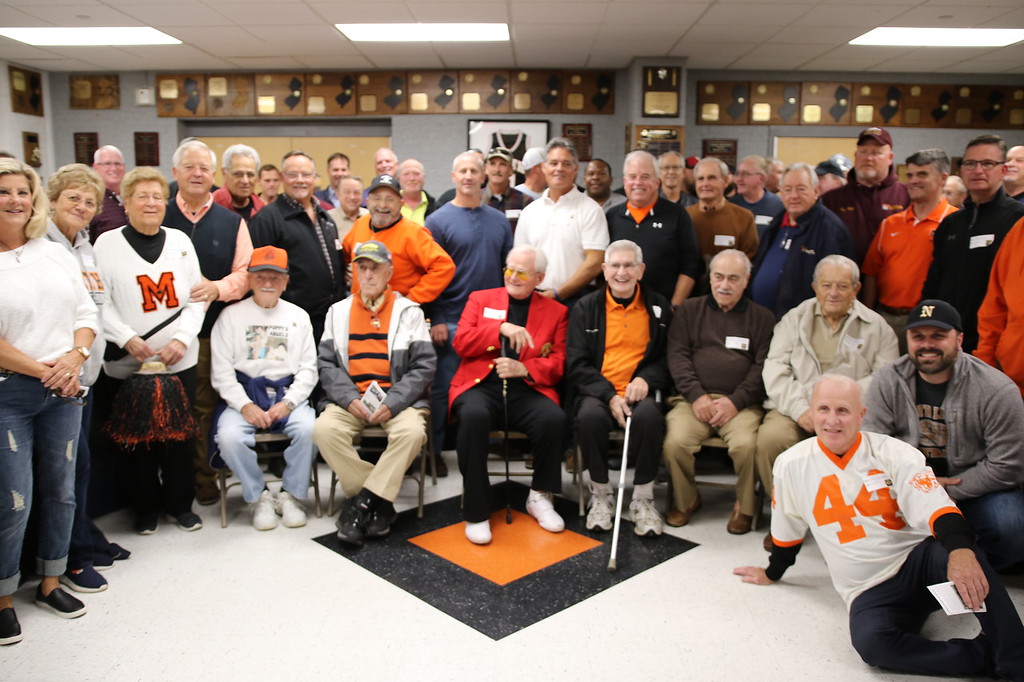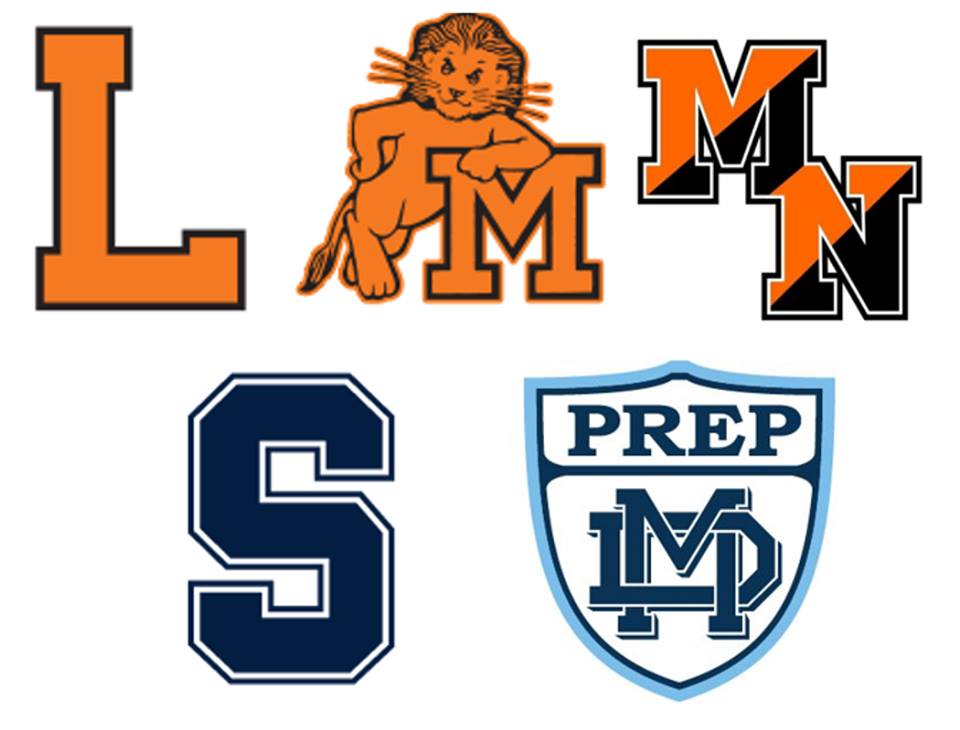 On October 25, 2019, Middletown High School North hosted the "100 Years of Football in Middletown" celebration prior to their home game against Mater Dei Prep. It was in 1919 that Middletown Township High School embarked on its first year of playing football at the high school level.  The pride and tradition that season created still exist today at Middletown High School North, Middletown High School South and Mater Dei Prep.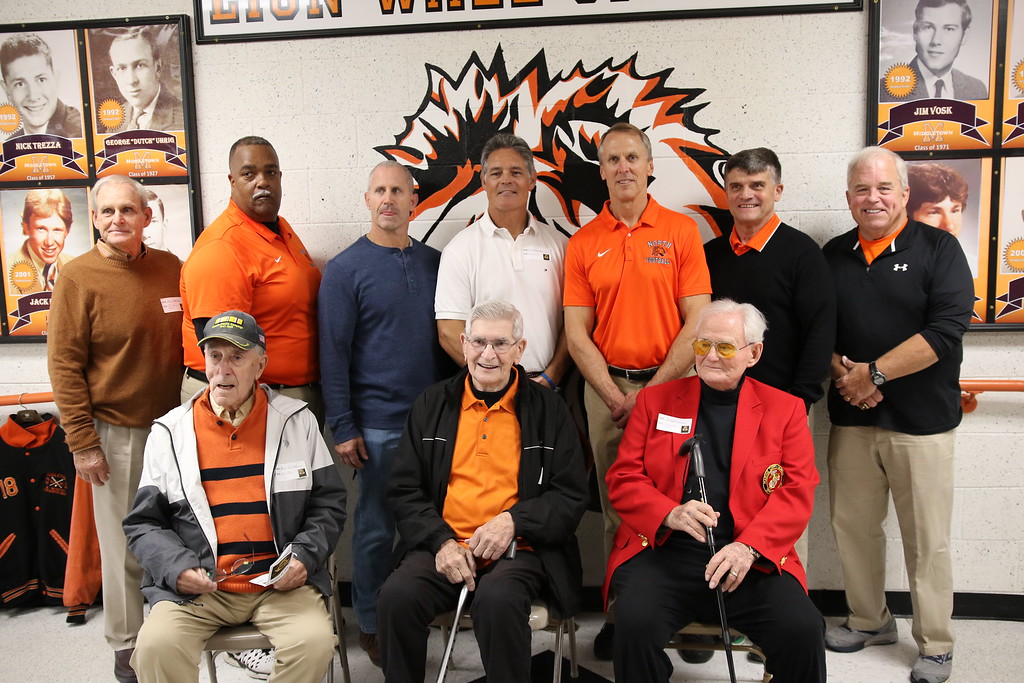 The free, informal gathering was open to all former gridders and cheerleaders who attended any high school in Middletown. The original school was affectionately known as Leonardo High School, before being recognized as Middletown Township High School (MTHS) in the early 1950's.  Overcrowding at the school on Tindall Road resulted in the need for two high schools. In the fall of 1976, the school split and Middletown High School South and Middletown High School North were an outgrowth. Mater Dei High School started playing football in 1963.
In honor of this milestone, the celebration of the Centennial was held from 4:45 pm until 6:45 pm in the Wall of Champions area in the gymnasium at Middletown High School North.  Following the gathering, all alumni were introduced at midfield prior to the coin toss of the Mater Dei Prep versus Middletown North football game. Included among the attendees was football players and cheerleaders from as far back as 1943!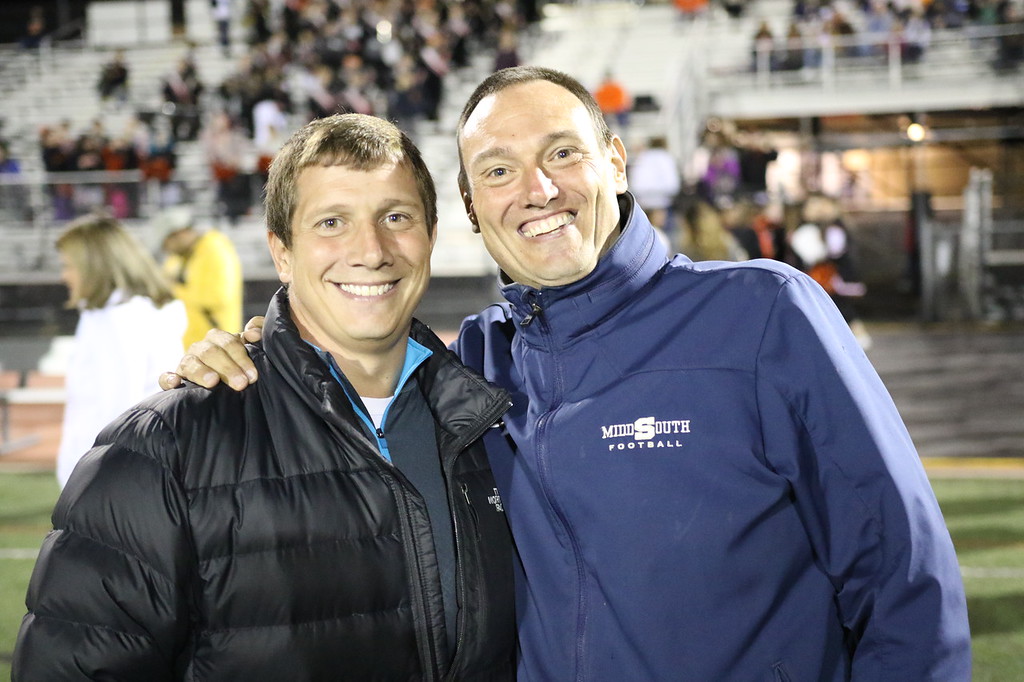 Many Middletown greats came to take part in the festivities including: Pat Toland, John Werner, John Kane, Ken Freshnock, Paul Frisco, Chris Barnes, Bill Parulis, Don Cerbone, Joe Little, Nick Trezza, Mahaki Burns, Coach Kleva, Dave Sheehan, Bryan Kernan and many more. The event was a huge success and many people played a critical part in making this wonderful celebration happen.  Ray Veth, a Middletown Township graduate from 1970 and star football player, created the idea and put together a committee to launch the event.  Members included Bob Foxworth, Jon Scala, Rich Toland, Mike Galos, Craig Letts, Coach Tirpack, Larry McKnight, John Cahill, Mike Corley, Don Ayers, and many other contributors.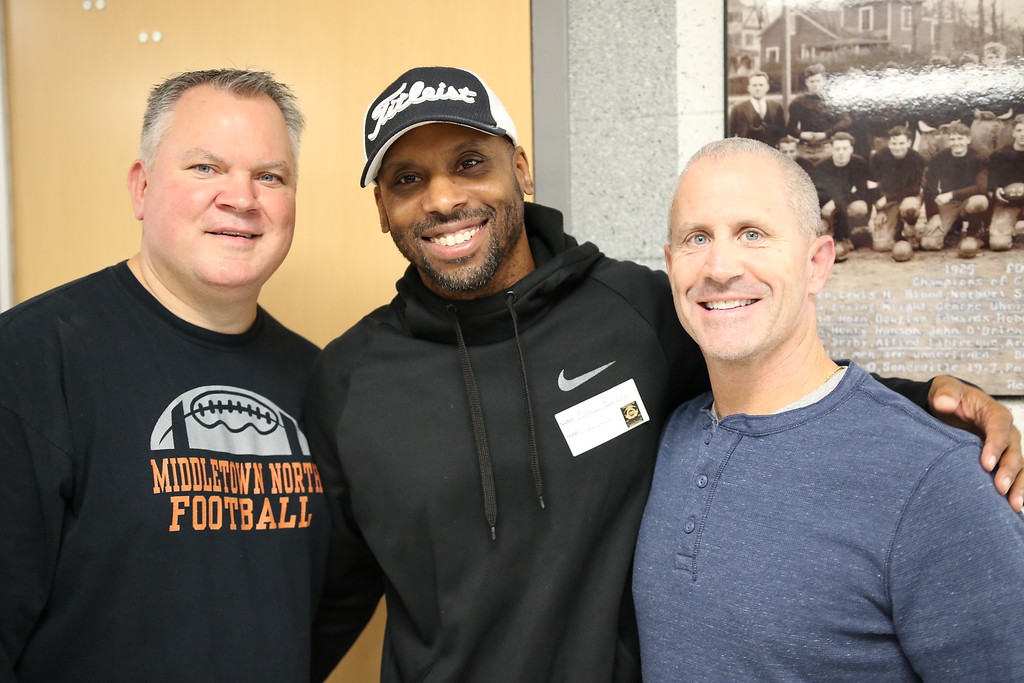 On display was vintage photos, football uniforms and memorabilia dating to the 1920's. Guests were also encouraged to bring their own memorabilia and share it at the gathering.  Rich Toland put together a wonderful 30 minute video presentation that the alumni of all of the high schools thought was fantastic.  The greatest moment of the night was seeing the happiness and smiles that all of the alumni were sporting in seeing old teammates, friends and in some cases opponents.  The night was documented by the great photography of Kevin Prefer, Madi Gibbon and AJ Purcell and a film that highlighted the night can be accessed by clicking the link below.
https://www.wevideo.com/view/1496038611?fbclid=IwAR2NCktWp88wWlHqBsWBtRBpbhoHTx_Wbu0LD4n9u03AAxVCmOKBGpyi4Wg