100 years of Football, Countless Memories: Middletown's Century of Gridiron Greatness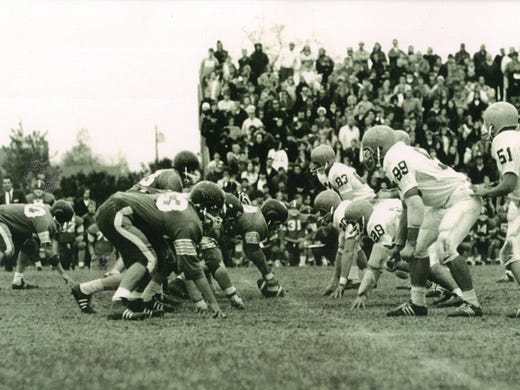 Stephen Edelson, Asbury Park Press, Asbury Park Press Writer
October 17, 2019
From Stephen Edelson's original Asbury Park Press Story: Published 5:00 a.m. ET Sept. 10, 2019
https://www.app.com/story/sports/2019/09/10/middletown-100-years-of-football-countless-memories/2122243001/
The first clue came in an Asbury Park Press article from September 16, 1919. Under the headline "Lively Football Season Promised,'' the story detailed the opening of the East Jersey High School Athletic Association's football season. And joining Point Pleasant, Freehold, Asbury Park, Chattle (now Long Branch), Neptune, Lakewood and "probably Atlantic Highlands,'' was Leonardo High School, set to make its gridiron debut.
Eleven days later, high school football officially began in Middletown when, on Sept. 27, 1919, Leonardo lost 55-0 to an Asbury Park team that, according to New Jersey State Interscholastic Athletic Association records, finished the year as the Central Jersey sectional champions and Class B state champs.
Since those humble beginnings on the Athletic Grounds in Asbury Park along Deal Lake, on the site of the current football stadium, you could argue that Middletown has been the greatest football town at the Jersey Shore over the past century when you consider the achievements of Leonardo, which became Middletown Township High School, now Middletown North, and Middletown South.
In 100 years of football, Middletown has accounted for 26 state titles and 19 unbeaten teams. Half of those state championships and 10 undefeated teams came before 1974, when the NJSIAA first introduced state sectional playoffs.
Since then, Middletown South and North have combined for 13 sectional crowns and nine unbeaten season, with Middletown South winning 10 state titles and going unbeaten eight times since 1990.
Ray Veth is Middletown through and through. His family's been there for generations. He played for the 1969 Middletown football team in "The Game." (More on that classic later). His late brother, Rich, went 378-189-2 as the Middletown North baseball coach between 1979-2001.
"In the late 1980s I sat down with Harold 'Bud' Foulkes, who everyone knew him as Buddy," Veth said. "He graduated in 1932, played baseball and football starting in the late 1920's, started Middletown Little League in the 1940s, was mayor of the town. He was a legend. He said `Ray, I have a list for you,' and he gave me a list of the greatest football players from Middletown, by position. I had no idea who Tucker "Swede'' Hanson was, or Joe Bulger or Ted Lauer and on and on. But his list was all the way up to Chris Barnes, and he gave me some old photos, too. I was hooked.''   Now Veth is in the process of completing a book to commemorate the 100th anniversary of football in Middletown.
Over that time, players, legendary teams and some of the best coaches anywhere have combined to make incredible memories for one generation after another.  It was Tucker "Swede'' Hanson, arguably the first superstar of Jersey Shore football, who put Middletown football on the map, scoring at least 240 career points – some records from the 1920's are incomplete  – for Leonardo's championship teams of the mid-1930's, before starring at Temple and playing for the Philadelphia Eagles in their inaugural season in 1933, scoring the franchise's first-ever touchdown.
In between the ledger is dotted with incredible talent, from Ted Lauer, a post-World War II star who some consider the greatest athlete ever from Middletown, to running back Stephen Pitts, who led Middletown South to its first state title in 1990 before playing at Penn State.
On the sidelines, coaches like Arnie Truex, the Rutgers Hall of Famer who led Middletown to seven state titles between 1940 and 1957, and six unbeaten seasons, and Dick Kleva, who had two unbeaten teams in 1964 and 1969, to Vic Kubu, who captured a state title at Middletown North (1983) before winning nine state titles, including six unbeaten teams, at Manasquan, his alma mater and Steve Antonucci, who has a 190-49 career record as he enters his 22nd season at Middletown South.  And it was more recent superstars like Knowshon Moreno, who shattered the state scoring record with 768 points in leading Middletown South to three straight 12-0 seasons (2003-05), and playing for the Denver Broncos, who drafted him in the first round in 2009, in Super Bowl XLVIII at MetLife Stadium
But then there's "The Game,'' the iconic 1969 showdown between unbeaten Toms River, ranked No. 1 in the state, and unbeaten Middletown, ranked second, and celebrating its 50th anniversary this season. In that game, Middletown traveled to Toms River and returned with a 14-8 victory, finishing the season ranked No. 1 in the state.
All of which leads to the fierce debate within the town over what was the greatest team ever. Some will argue for that 1969 team, while other point to the 2005 Middletown South team, which won the Eagles' third straight sectional title and kept an unbeaten streak intact that would eventually stretch to a Shore Conference record 43 games.  Others will point to the Pat Toland-led unbeaten Middletown North team from 1983, but Veth actually thinks you may have to go a lot farther back to find the best team to come out of Middletown.
"The team that was probably the greatest was the 1940 team,'' he said. "It was the second year for Arnie Truex. He had been very successful at Atlantic Highlands, and his team did not give up a point on defense that year, and they had Joe Bulger, who was a great triple-threat tailback.''  What it all adds up to is an incredibly rich history, with Middletown football helping weave the fabric of the game at the Jersey Shore over the past 100 years. With a new season of Shore Conference football now underway, what better time to celebrate this important piece of the local gridiron narrative.
Stephen Edelson is a USA TODAY NETWORK New Jersey sports columnist who has been covering athletics in the state and at the Jersey Shore for nearly 35 years. He's passionate about the area's rich sports history, and the history being made today. Contact him at: @SteveEdelsonAPP; [email protected].