North Wrestlers Finish The Season Strong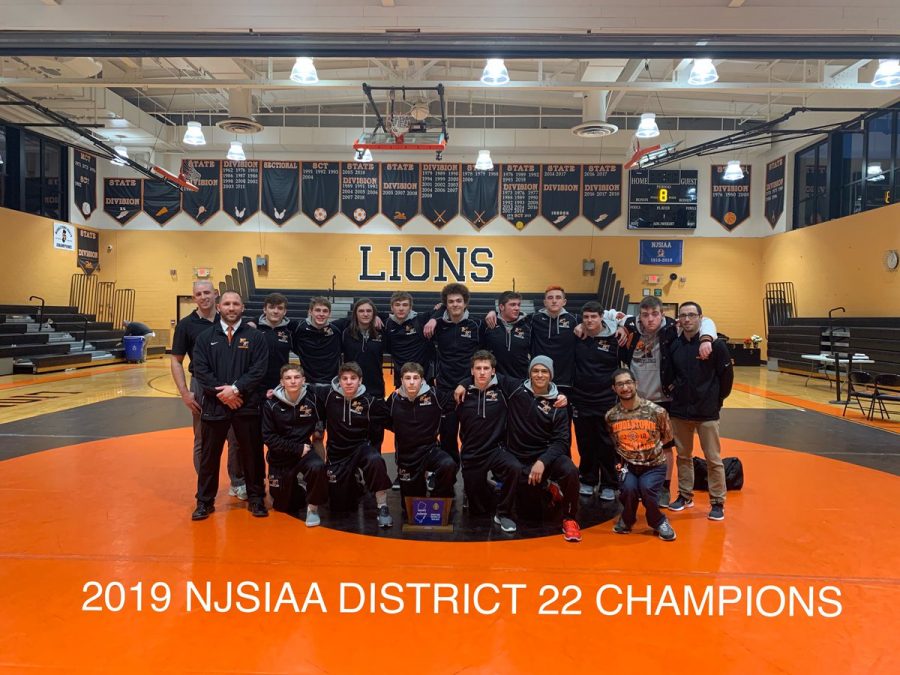 Mike Puzo, Writer
March 13, 2019
The high school wrestling season recently ended and many North wrestlers brought home some hardware in their last tournament.  Middletown North led the district and sent a full 14-man lineup in with high expectations for the team that had one of the hardest schedules in the state.  The Lions came prepared sending nine to the Regions at Jackson Liberty. The team now has three district champs, Tyler Klinsky (106),Chris McCarthy (138) and senior captain Jacob Anderson (195).  
The team after wrestling the schedule they have was ready for their region tournament sending four to the state tournament at Atlantic City. The Lions crowned two champions at once again 106 and 195.  
Captain Jacob Anderson (12) was asked how he feels about the performances this season.  He seemed very proud and excited for the future.
He said, "I feel that some of my other teammates were able to excel this season and they definitely have a bright future ahead of them. As a team, we were able to win our division, win the district (Has not been done since 2002) and win the region. As we are only losing a few seniors, I think the team will be looking to continue this success into the next season."
In the state tournament all of the wrestlers had a great run, but two were able to bring home medals and the pride of saying that they placed in the State of New Jersey Individual Wrestling Tournament.  Tyler Klinsky (11) had a very impressive run making it to the state finals and losing a tough decision to place first.  Although he finished second in the NJSIAA, Klinsky captured his third straight District 22 Championship, and will look to be the third Lion to ever win four District Championships next year.  If Klinsky can accomplish this great feat, he will join Hall of Fame wrestlers Mike Florio, Jr(1996) and John Hockin(2000) as the only four time winners.  Klinsky also achieved his 100th career victory during the season and has an opportunity to become the Shore Conference's All Time Wins leader if he has a successful 2019-20 campaign.
Klinsky was the furthest a North wrestler has made it in the state finals in over forty years.  Jacob Anderson, famously known as the "J-Train" by the North wrestling community lost in the semi finals landing himself into the wrestle backs placing an impressive fifth place for his final state run in his high school career.  
Talking to the senior about his final run in the state tournament, Anderson showed nothing but a positive attitude toward his team on how they performed. Anderson went on to say, "Going into to my final high school match as a Lion, I wanted to end up on top. Therefore, I let it all fly leaving everything on the mat. Going into this I knew that my brother had also placed fifth, so it was only poetic that I could also gain that medal. Definitely feels a lot better leaving on a win rather than a loss."
The lions finished a strong season with some strong individual runs and will look forward to next season where the hopes are once again high.