Indoor Track Season Review
The 2018-2019 Indoor Track Season is coming to end. The Middletown North Boys and Girls track team had a very exciting season with many outstanding performances by sprinters, jumpers, throwers and distance runners.
Coached by Coach Silvestri, Kalman and Convey, the team was bound to be successful this season. The throwing team, coached by Coach Kalman, had a series of meets dedicated solely to shot put at Howell High School. Throwers who received medals were Jada McKnight (9), Kassidy Wilson (9), Gavin Warshawer (9), Nick Ferreira (11), Adam Ibrahimovic (10), and Steven Holler (12). Throwers Lorna Halsall (12), Naomi Mason (11), Kassidy Wilson (9), Adam Ibrahimovic (10), Tom Moran (12) and Steven Holler (12) were able to qualify to Sectionals. Holler also qualified for Groups.
The runners and jumpers had many victories as well. In the Shuttle Hurdle Relay, hurdlers Olivia Kelty (10), Hailey Guerrieri (9), Darien Rinn (11) and Katelyn Reid (11) received a first place finish at the Monmouth County Relays with a time of 33.03 seconds, which made the team qualify for the Indoor Track National Championships in March. Olivia Kelty, who qualified for nationals, is excited to attend.
Many of the track athletes received medals in Varsity meets, like Katelyn Reid and Olivia Kelty, in the 55m Hurdles. Tyler Morris (12), Casey Bogues (12), Genesis Everett (12), Darien Rinn, Joey Kang (10), Brian Dorobis (12), and Katelyn Reid earned medals in Long Jump. Isa Yilmaz (11) and Julia Brickle (10) were recognized in the 800 meter relay. Jesus Rodriguez (12) earned herself a medal in Pole Vault. Michael Murphy (10) gained his own medal for the mile run. Katelyn Reid, Hailey Guerreri, Wayne Kugelmann (11), Brian Dorobis and Michael Skelly (10) were all recognized in the high jump.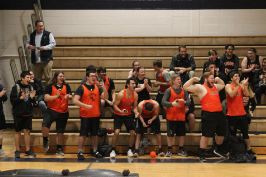 Many runners and jumpers qualified for sectionals as well. Sprinters Genesis Everett, Casey Bogues, Cameron Campbell (10), Darien Rinn, Kaleigh Harmon (12), Julia Brickle, Tyler Morris, Steven Holler, Joey Sclafani (11), Matthew Conway (11), Stephen Delahanty (11) and KC O'Brien (11) all qualified. Long distance runners Tiffany Brickle (9), Erin Powers (10), Michael Murphy, Chris Gambardella (10), Michael Merritt (12), Anthony Sclafani (11), Isa Yilmaz, and Kevin Carragher (11) qualified for sectionals.  Hurdlers, Jumpers and Pole Vaulters Katelyn Reid, Hailey Guerrieri, Olivia Kelty, Darien Rinn, Madison Monath (12), Riley Poss (11), Jesus Rodriguez, Wayne Kugelmann and Brian Dorobis met the requirements as well.
Athletes Katelyn Reid, Anthony Sclafani, Isa Yilmaz, Michael Murphy, Brian Dorobis, Jesus Rodriguez and Steven Holler placed in the top six to compete in Groups. Brian Dorobis' great finish in 5th place in Groups was good enough for him to qualify for the Meet of Champions and Katelyn Reid's 7th place finish also qualified her for Groups.
The indoor track team had an amazing season, and are looking forward for the Spring Track Season to start on March 1, 2019.