Super Bowl 53 Preview: Patriots vs Rams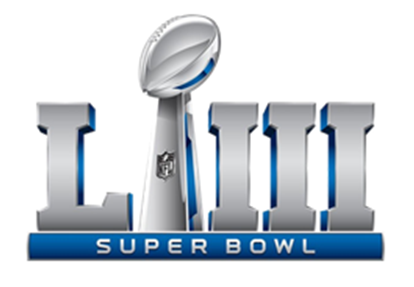 Lion's Roar Staff, Writer
January 24, 2019
The 2018-19 National Football League had a very exciting season that is about to conclude with Super Bowl 53 on February 3, 2019.  With solid play from rising stars and steady play by many veterans, the Super Bowl 53 match-up was not entirely a surprise. The New England Patriots are appearing in their third straight title game and will look to rebound from last year's defeat to the Philadelphia Eagles.  Their opponent, the Los Angeles Rams, are one of the young and upcoming teams in the league that will look to make their mark with a championship performance.
The most interesting part of this match up is not even the fact that these teams are meeting, but the Patriots first ever Super Bowl win came against the Rams in 2002.  Tom Brady will look to win his sixth championship in nine appearances. This match-up is not going to be an easy task for the Patriots even though they feature arguably the greatest coach and quarterback in NFL history in Bill Belichick and Tom Brady.  The Rams feature a bright, young, innovative coach in Sean McVay and third year quarterback Jared Goff who was selected with the first overall pick in the 2016 NFL Draft.
Although both teams have earned the right to play for this championship, most experts believe that Tom Brady will win his record sixth Super Bowl and even at the age of forty, there are no signs of slowing down.  If the Rams are to have a shot at winning, they will have to rely on getting to Brady quick and make him uncomfortable in the pocket.
If the Rams are able to be victorious, it would mark their second ever Super Bowl championship in franchise history in four appearances.  Ironically, the last time the Rams played in a Super Bowl it was a 20-17 loss against the Patriots in 2002. If the Patriots can win, it would mark their sixth championship since 2002 and twelfth overall appearance.  Not too shabby for a coach who was fired once before and the last quarterback drafted in the 2000 NFL Draft.
This year's Super Bowl will be played on Sunday, February 3, 2019 at 6:30 PM on CBS and the halftime performers will be Maroon 5, Travis Scott and Big Boi.
Lion's Roar Prediction: New England 34, Los Angeles 31
Photos courtesy of the NFL and Getty.