Indoor Track & Field 2018-19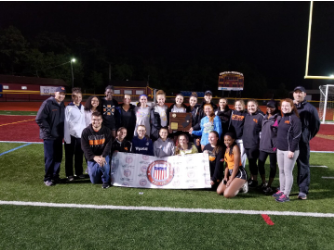 Hang on for a minute...we're trying to find some more stories you might like.
On your marks, get set… for another winter track and field season! Students of Middletown High School North who are part of the program had their first practice Monday, November 26 in the back of the bubble at 2:30 PM. All the runners and throwers performed trial-based drills in order to determine what other athletes they would be training with throughout the season.
With a rough estimation of 160 total athletes signing up to be part of the extracurricular program, short distance coach Mr. Convey says those who sign up for the Indoor season are "committed and dedicated."  He added that over the course of last few years the team has had multiple individual champions at the county, shore, and state levels from both the girls and boys teams; the girls have also won team championships as well.
There are no tryouts for track and anyone who is interested in participating has the opportunity to join the team. There is a second opening for late-joiners.  You can sign up for Indoor Track and Field through FamilyID (https://www.familyid.com/pages/home).  In order to join, you also have to turn in a Physical Form if you have not turned in one already this year.
Coach Convey offered some words of wisdom for track and field athletes: "For anyone who is interested in track and field I would tell them to come give it a shot.  There are so many different events, so if you are a good athlete you can excel somewhere, whether it's in the sprints, jumps, distance, or throwing events. If it's your first year in the program, I would emphasize patience to the athletes.  Many of the skills are somewhat new to the athletes, but with hard work and dedication there is great opportunity to be successful."