Florentino's Food Review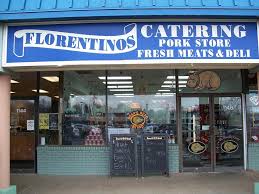 One day after school, I was hungry and looking for something fried and unhealthy to eat.  After much contemplation, I made my way over to Florentino's on Route 35 in Middletown.
I walked in and saw the old-fashioned style of decor and appearance. It made me feel satisfied to be ordering food at a place that has been open since 1990. When I was ready to place my order I asked for a breaded chicken cutlet sandwich on a roll with lettuce, tomato and mayo, with the chicken heated up. As I was waiting for my food, I looked around again to observe the structure of the store. Seeing the jars full of olives, pickles and peppers on the shelf made me feel like I was in a sub shop.
I got my food and the total came out to $10.00, which is pretty average for the cost of lunch.  As I open up my sandwich I get a big whiff of fried food in my face. The smell of the freshly cooked chicken cutlet made it all. From the very first bite, I fell in love. It wasn't the cleanest sandwich to eat, but it was delicious. Ordering the tomato on the sandwich gave it a refreshing flavor. The tomatoes have to be ripe if they are going to taste good and these tomatoes certainly were. However, in order to make a good sandwich you need to have a good roll. The roll on my sandwich was fresh, dry and tasty.
After eating at Florentino's, I recommend that you go and give it a try. You don't have to order a chicken sandwich.  There are plenty of other options on the menu that sound amazing. In addition, the family who owns the store and works there is very kind and respectful. As a customer, I like to feel satisfied being provided with excellent food from nice people. Go try some quality food at Florentino's!