Middletown North Hosts Annual Homecoming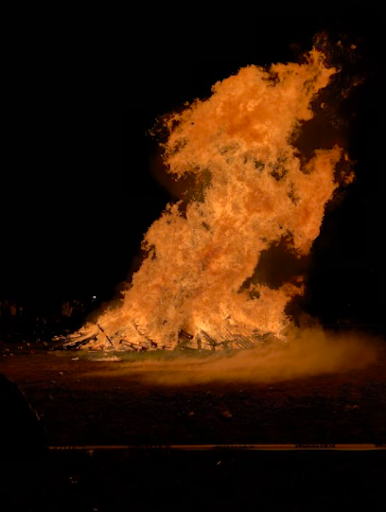 The 2021 Middletown North Homecoming took place on Nov 23. This event was unlike many previous years. Typically, North hosts a homecoming dance and another separate bonfire event. However, this year the two were merged. 
For a few weeks before the event, students were able to purchase $10 tickets for the VIP section. This section was a tent located on the football field. Inside the tent was a DJ, as well as many flashing lights. Besides the tent, there was also a showcase of the North Hall of Fame, where many alumni were able to see old pictures of themselves and family members. Outside of door 6, there were two food trucks, as well as the North Snack Stand. 
The weather during this year's "HOCO" was quite harsh. With the temperature reaching a low of 35 degrees, many students were bundled up in multiple layers.  The main event of this year's "HOCO" was the bonfire. The fire was lit just after 8 PM when masses of students gathered around.  The fire was massive! Dozens of wooden pallets were stacked in a very large pile and covered in kerosene to create the fire. It was then lit with the use of flares. The flames did not catch on extremely quickly, taking around eight minutes to reach their peak. The fire surged to heights of around 25-35 feet tall. With high winds at some point, the flame turned into a "fire tornado" temporarily. On top of this, students were given papers that depicted the Middletown South eagle mascot along with text that read "Save a turkey, roast an eagle". 
With all this excitement there is inevitable danger. However, North was well-prepared with a firetruck on site and a few firefighters from the Middletown Fire Department to keep the bonfire under control. 
After the bonfire, students rushed back to the blacktop near the food trucks. Many enjoyed another meal, while others had a hard time dealing with the cold causing some to leave earlier than anticipated. However, according to most student reports, the cold weather did not stop Middletown North's 2021 "HOCO" from being extremely fun.