The Dress An Elf Fundraiser Is Back!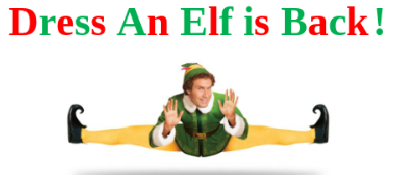 The "Dress an Elf Fundraiser" is back! The fundraiser has returned for another year on behalf of the National Honor Society.
As part of the "Dress an Elf Fundraiser,"participating teachers have boxes in their rooms that look like presents and any student or staff member can choose to make donations.  Teachers who raise at least $25 by December 19 will dress as elves on the last day before winter break begins, December 21.
This year, a portion of the funds will be donated to the Toys for Tots program. Toys for Tots is run by the United States Marine Corps.  The program has been distributing toys to children in need for the last 71 years.
Teachers who volunteered to be a part of this fundraiser have signs on their classroom doors to let students know they are involved.  If $500 is collectively raised by all participating teachers Dr. Cartier, Mr. Herbert and Mr. Falco will also dress up. Perhaps Mr. and Mrs. Claus will visit High School North again this year!
If you want to see your favorite teachers dressed as elves, or if you just want to give to a great cause this holiday season, be sure to make your donation before December 19!