Marine Science Visits Sandy Hook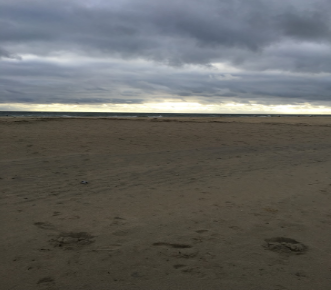 Hang on for a minute...we're trying to find some more stories you might like.
On October 4th this year, the Marine Science class had the wonderful opportunity to take a class trip to the beach of Sandy Hook to examine the organisms that are native to the area.
The trip was to multiple points in the Sandy Hook ecosystem. There was a variety of flora and fauna to be examined there. A beautiful plant called Queen Anne's Lace. When looking at plants, one should be careful of plants that have negative effects on the body. Poison Ivy is one such plant.
The trip was hosted by Marine Science teachers Mr. Hoblitzell and Mr. Silvestri. These teachers are very knowledgeable of the Sandy Hook ecosystem and the environment around it. Both the teachers and classes took samples from the ecosystem to study. From what was witnessed, they took some sand samples from different shorelines and Water samples from deeper out.
The most interesting part of the trip where using the waders. Waders are waterproof footwear from your feet to your chest. It allows you to go deep in the water without getting wet. They were used for both deeper fishing and to bring in many types of fish. Overall, the trip contained knowledge, interest and fun, and should be experienced.