MHSN English National Honors Society Chick-Fil-A Fundraiser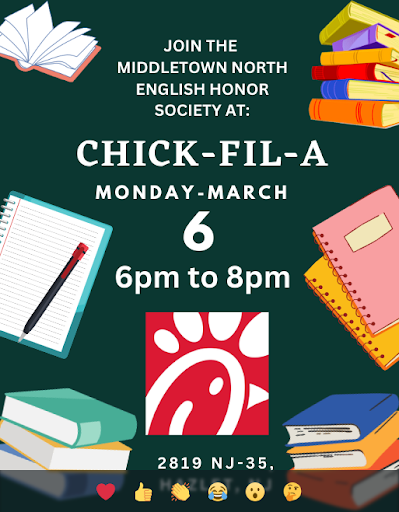 The English National Honors Society is holding a fundraiser at Chick-Fil-A on Monday – March sixth, with the aim to raise funds for graduation cords. This fundraiser will be held from 6:00 – 8:00 pm at the Hazlet, NJ location. If you decide to come by, just mention the Middletown North English Honors Society and a portion of the cost of your meal will be donated to the program. 
The English Honors Society is an organization for students who have accomplished great academic achievement in literature, and language studies. Benefits of this program include scholarship eligibility, academic recognition, and opportunities to connect with other students who share the same passion and accomplishments in the language arts subject. Please come out and support this organization this Monday!