Class of 2021 College Decisions Finalized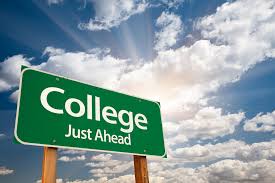 As the last of the college decisions were released in the first week of April, the Middletown North senior students have successfully finished the college application process of 2021. The students are excited to embark on new journeys at new locations. 
This year was especially rigorous among admissions committees at many colleges across the country.  The epitome of a successful college application was either an ACT or SAT that colleges required for submission. However, last spring many colleges changed their requirements and became test optional due to the limited amount of testing having been completed with the pandemic in full swing. With that barrier destroyed, more applicants were able to apply. As a result, the amount of applications garnered by colleges increased tenfold causing the overall acceptance rates for students to decrease exponentially.
Senior Nick DeMaio argued that the admission process was more difficult for applicants who did a lot of test prep before the pandemic. He stated, "My work was not reflected in people without test scores getting into school over me." He noted that acceptances have been very even over the past couple of years, until the 2020-2021 admission cycle. "The one year when I am applying to colleges, the acceptance rates are lower… I just feel cheated out of some of my top schools," he concluded. 
Fellow senior Nicole Kelly also stated that "college admission was competitive this year and a lot of really hard-working students were let down." Excited to be attending the University of Miami, she hopes that the graduating class of 2022 does not have as much difficulty as the class of 2021 had during the college admission process.
Even with the challenge of only seeing colleges virtually, many students still had trouble choosing one to attend next year. With May 1 quickly approaching, college decisions are starting to be finalized and many North seniors are excited for the next years in their lives. Some of the most popular colleges the students will be attending include Rutgers University, Montclair State University, Sacred Heart University, Brookdale Community College and The College of New Jersey. With the Senior Commitment Instagram page increasing in posts, some North seniors have recently decided to head either down to Florida or up to Maine. Senior Shannon King is doing a tremendous job updating the page frequently and keeping the Middletown North community informed.
As the 2020-21 school year is quickly approaching, the Lion's Roar Newspaper would like to congratulate all of the seniors on their future endeavors as they graduate from North.  We hope that your Lion pride remains everlasting!