2020 Presidential Debate Set For Tonight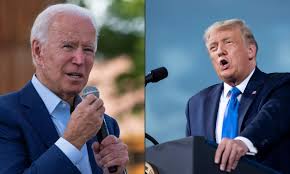 President Donald Trump and Democrat Joe Biden will participate in the first of three televised general-election presidential debates tonight, September 29, 2020 (Tuesday). The debate will be moderated by Fox News Sunday host Chris Wallace beginning at 9 p.m. ET and held at Case Western Reserve University in Cleveland.  The debate is scheduled for 90 minutes, in which social distancing rules will take place.  The audience will consist of about 70 people and the event will feature no commercial breaks.
The topics to be debated according to the Commission on Presidential Debates are:  "The Trump and Biden Records," "The Supreme Court," "Covid-19," "The Economy," "Race and Violence in our Cities" and "The Integrity of the Election".  No matter your political beliefs, this event is a much watch event that will have a significant impact leading up to Election Day on November 3, 2020.
Cover Photo via ABC News