Trade and Job Fair: Get the Scoop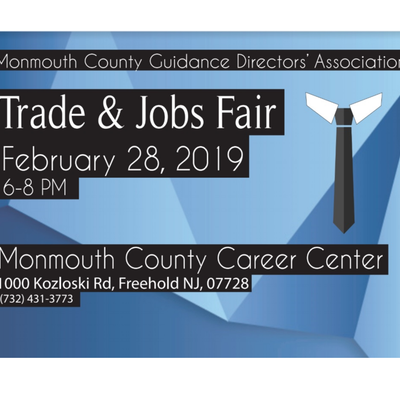 Kristina Barillari, Writer
February 26, 2019
FREEHOLD- On February 28, 2019 the Trade and Jobs Fair will be held at the Monmouth County Career Center (1000 Kozloski Rd, Freehold NJ, 07748). The Event will take place from 6-8 PM. This is the first time this event is county-wide. 
College Fairs allow students to consider their post-secondary educational options. However, college is not for everybody. The Trade and Jobs Fair is a great opportunity for those students who may want to pursue a career immediately after high school. There will be an abundance of different employers, trade unions and trade schools in attendance! There will also be a wide range of opportunities for students to explore.  Many of these agencies provide great advantages to their employees, such as tuition reimbursement programs and hands-on experience.
The Trade and Jobs Fair is not just for those wanting to immediately pursue their careers right out of high school, it is also great for those attending college apprenticeships and part-time colleges. North's Assistant Principal Anthony Mormile said,"Even if kids want to start a career while attending school at Brookdale, this would be ideal for them.  They can make money while going to school part time." The Trade and Jobs Fair is a great opportunity to explore your career options whether you plan on going to a two-year college, four-year college or no college at all.
TRADE and JOBS FAIR
February 28, 2019
6-8 PM
Monmouth County Vocational School District- Career Center
1000 Kozloski Rd., Freehold 07728
List of Participating Organizations

| | |
| --- | --- |
| Name of Agency | Agency Category |
| Acrobat Outsourcing (Food and Hospitality Management/Staffing) | Employer |
| Advanced Manufacturing Talent Network/NJMEP | Trade School |
| Advantage Career Institute | Health Care- Trade School |
| Allied Fire & Safety Equiment | Employer |
| Associated Construction Contractors of NJ | Trade |
| Avtech Institute | Trade School |
| Bayada Health Care | Health Care |
| Brookdale Community College: Continuing Professional Studies | Trade School |
| COBHAM Advanced Electronic Solutions | Employer |
| Criticom Monitoring Services (ADT Security) | Employer |
| FedEX | Employer |
| Fitness and Wellness Professional Service | Employer |
| Freehold Career Center 1000 Kozoloski Freehold NJ 07728 | |
| Gaming Laboratories International LLC | Employer |
| Hackensack Meridian | Employer |
| Heat and Frost Insulators Local 32 | Trade Union |
| HMS Host | Employer |
| HMS Host | Employer |
| Home Care Assistance | Health Care Employer |
| HVAC/R Training Facility | |
| Institute for Therapeutic Massage | Trade School |
| International Brotherhood of Electrical Workers Local 400 | Trade Union |
| Johnstone | Employer |
| JP Hogan Coring and Sawing Corporation | Building Trade |
| Lincoln Technical Institute | Trade School |
| Local 11 Iron Workers | Trade Union |
| Local 27 Sheet Metal Workers | Trade Union |
| Local 9 Plumbers and Pipefitters | Trade Union |
| Lufrankton | Employer |
| MCVSD Apprenticeship/Adult Program/CEC | Trades |
| Monmouth County Buildings and Grounds | Employer |
| Monmouth County Sheriffs Office | Employer |
| My Limousine | Employer |
| New Jersey National Guard | Military |
| One Stop Career Center | |
| Paul Mitchell School | Trade School |
| PrideStaff | Employer |
| Prudential | Employer |
| Renewal By Andersen (Window Installation) | Employer |
| Res Care | Health Care Employer |
| ServPro | |
| Somer Tile/Merola Tile | Employer |
| Summit Home Care | Health Care- Trade School |
| The Arc of Monmouth | Employer |
| United Brotherhood of Carpenters: Carpenter Training Center | Trade Union |
| United Natural Foods | Employer |
| United States Air Force | Military |
| United States Army | Military |
| United States Marine Corp | Military |
| United States Navy | Military |
| Universal Technical Institute | Automotive Trade School |
| UPS | Employer |
| Wawa Managment Training | Employer |
| Zodiac Aerospace | Employer |