Orange Wave Drinks from the Yamaha Cup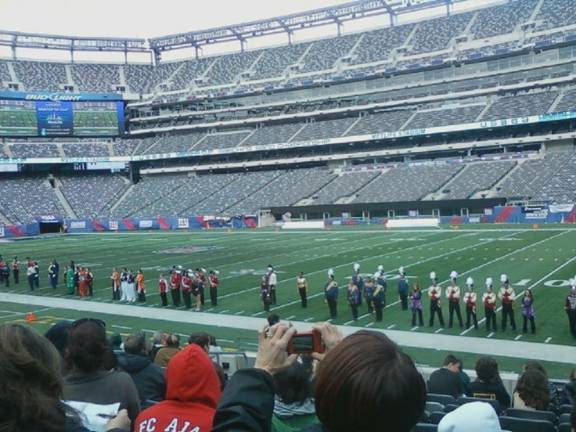 Saturday, October 16th 2011, the Orange Wave Marching Band attended the Yamaha Cup competition. The Yamaha Cup is annually held at MetLife Stadium, or as it's more commonly known, Giant's stadium. 
   Featuring 59 bands, the competition is brutal, featuring bands ranking the best of the best. Beautiful weather greeted the band after a long bus ride. Shortly after arriving at 8A.M, the MHSN marching band performed on the Giant's field to their utmost capacity. Following many performances, the awards ceremony began at 5p.m. After long anticipation, the band and crew sat on their seats. In class 3A, the band's class, there were six other competitors. 
   Unfortunately, the Orange Wave Marching Band placed 7th, though their performance was well done. Regardless of their placing, their spirits were high and their scoring went up 4 points from the last competition. Scoring a 76.7 and improving 4 points in just six days was a feat insurmountable by most.
   Having the experience in itself was phenomenal for all who were involved and was a memorable experience that was a reward in itself. The once in a lifetime opportunity will be treasured by those who got the chance to be there.