Ways to Honor Veterans Day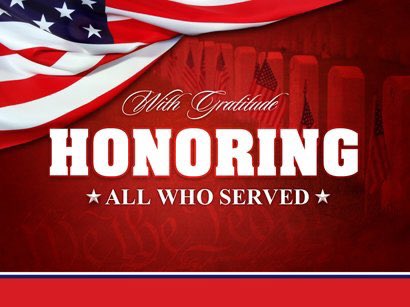 Veterans Day was originally known as "Armistice Day" and it occurs on November 11th every year.  It is the anniversary of the end of World War l and it has been a national holiday since 1938.  The importance of Veterans Day is to pay tributes to Veterans who have served and continue to serve our country. These Veterans protect the life of the people of the United States. Any man or woman who served our country should be shown recognition on Veterans Day. 
There are many ways to honor the Veterans who have passed or still continue to serve. One way to honor Veterans Day is to send a card or video to Veterans you know.  The card or video can be used to show your appreciation for their dedication and strength.  Another way is to organize a care-package that includes simple necessities for Veterans.  This shows your gratitude by helping those who struggle with supplying their own essentials.  A third way to honor is to donate to a charity organization that aids Veterans in need.  Some Veterans were negatively affected by service and this act of kindness can greatly benefit their health. Lastly, taking a moment of silence is a way to honor Veterans.  The Veterans Day moment of silence is known to be at 11:11 a.m. for two minutes.  A moment of silence shows respect to those who have died in service. Veterans deserve every bit of thanks!  They show bravery and love in everything they do!  Give thanks to Veterans!