Salt Design Director Speaks to MHSN Students
Salt Design Company's Director of Design and Middletown North graduate, Jess McDonald, appeared as a guest speaker for Ms. Hanson's Interior Design students. On October 21, in North's Media Center, McDonald shared her passion for interior design, fashion and the arts, as well as how she was able to land her dream job.
She showed the students the projects she's completed, exhibiting before and after shots, as well as progress pictures. McDonald also discussed the many components of her daily schedule, such as working with samples, creating a floor plan, and meeting the clients' wants and expectations. 
"Organization is key," McDonald said. As Director of Design, it is her job to oversee the projects, manage and shop for the pieces. She stressed the importance of organization and design as the team works on multiple projects of different sizes and stages all at once. Additionally, McDonald explained that her work is very hands on and math comes into play with measurements.
She suggested different courses for the students to take at North if they wished to further a career in interior design. Courses such as Graphic Design and Fine Arts were recommended. Graphic design has been a big part of her job as she uses photoshop every day. Fine arts teaches the importance of color theory and the principles of design, elements that are also commonly used in interior design.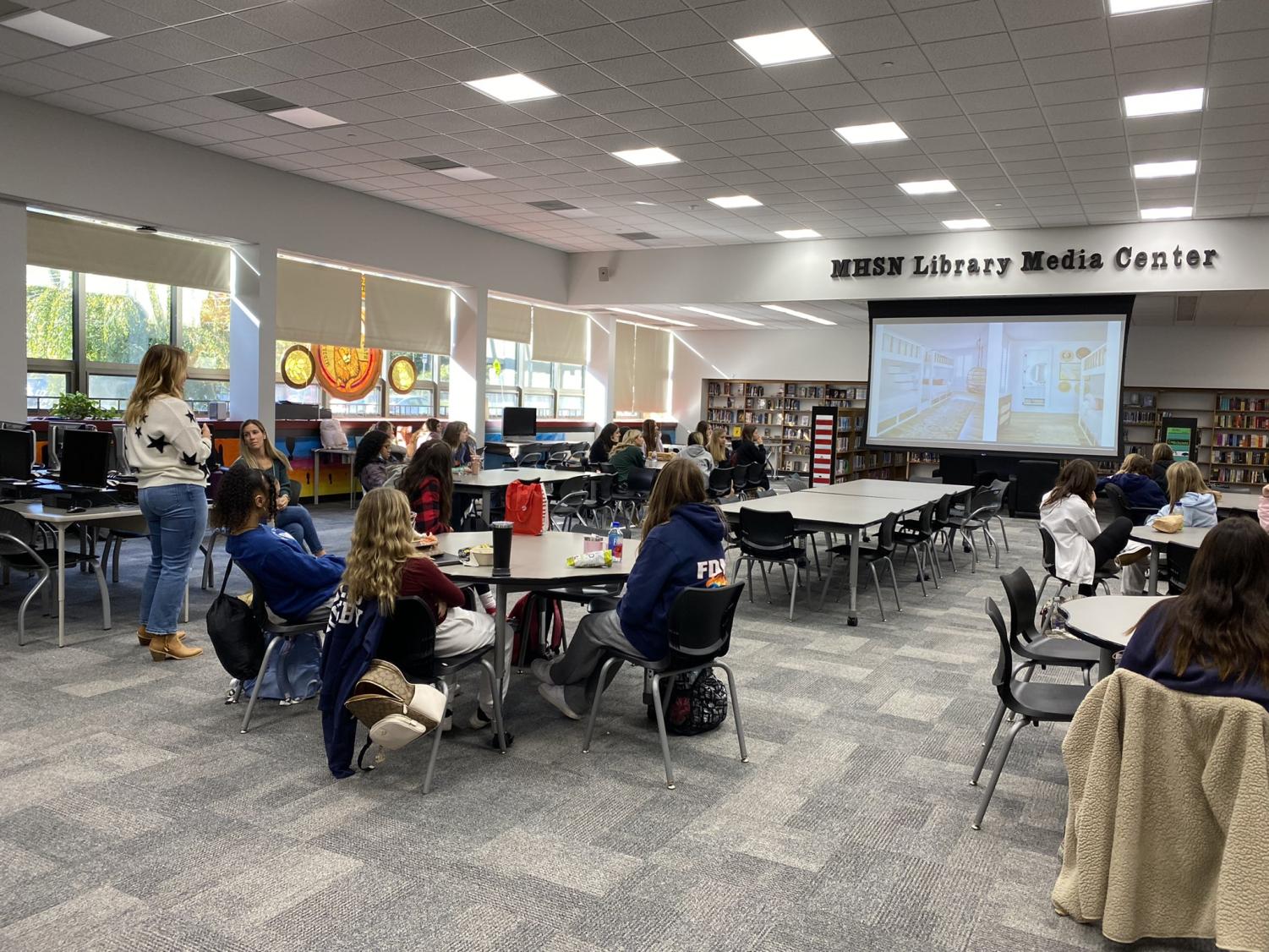 McDonald went on to discuss how the students could make their way into the field in different ways. She explained that after graduating from the Fashion Institute of Technology (FIT) with her Bachelor of Fine Arts (BFA) degree, she has been in the field for ten years.  She began working for Victoria's Secret doing store design and has now been a part of Salt Design Company for eight years. 
The students took full advantage of her knowledge by engaging in discussion and asking questions regarding schooling, areas of design and projects. The students also explained that they would be working on projects around the school and McDonald gave her advice as to how they could achieve their goals. 
Additionally, she discussed the endless possibilities that students have as they enter the field and emphasized the importance of creativity. Towards the end, McDonald showed her favorite projects and designs through her instagram handle @saltdesignco, where students could gather inspiration for their own future projects and view client work.
JESSICA MCDONALD
DIRECTOR OF DESIGN
Jess is a Monmouth County local who earned her BFA in Interior Design from the Fashion Institute of Technology. Originally a fine art student, she wanted to dive into a more technical and challenging field of design. Her years of studying fine arts have come in handy to be able to quickly draw up ideas on the spot and help depict her vision. After working in the design field in Manhattan, she longed to work for a design firm where she would have the opportunity to reconnect with her local roots by the shore. Jess joined Salt Design Co. in 2014 and has enjoyed watching the team rapidly grow. When she is not at Salt, Jess spends her time with her fiancé Sean and labradoodle "Blue", entertaining poolside, creating new recipes, riding her peloton or enjoying all the local gems the New Jersey coast has to offer.