Louyah: Former Middletown North Student Sees Music Career Skyrocket
Former Middletown High School North student Louis Vigorito has catapulted into the musc scene over the past year. The singer-songwriter known as Louyah, has been making significant progress in the music industry since his music went viral based on a Tik Tok video in 2021.  A Tik Tok video that features Louis in the passenger seat of his brother John's car with two friends in the backseat. 
This viral video of over ten million views has given the 25-year-old the media attention he deserves.  This talented and diverse artist mixes a variety of styles that includes pop, rock, rap, and R&B.  After frequently perfoming throughout the Jersey Shore, Louyah has been performing on the West Coast, specifically in the Los Angeles, California area.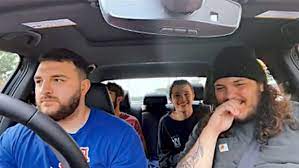 While the group was driving through New Jersey, Louis did not realize that the group had secretly arranged for his now hit song "I Used to Care" to be played on the ocal radio station.  This video became a monumental moment in Louyah's career and changed the musicians life foreveras it has been viewed 1.8 million times.  The true moment of friendship and love captured the hearts of many and has allowed Louyah's music career to grow including the release of his new single,  "This Isn't Heaven, It Must Be Hell" which was released on March 4, 2022.  
Louyah is on the rise and his ultimate goal is to make people happy with his passion of music.  "I want to sing in front of thousands and thousands and thousands of people that just all are connecting with me in that single moment, because that always felt like a very surreal moment, and I had just a short little taste of that at my own sold-out show for five hundred to six hundred people" said the Middletown singer.
Louyah makes it a point to connect with his fans as he always appears on social media and you can catch him daily on Facebook Live interacting with his supporters.  Congratulations Louyah!
Cover Photo via MajorStage