Middletown North Set to Perform A Chorus Line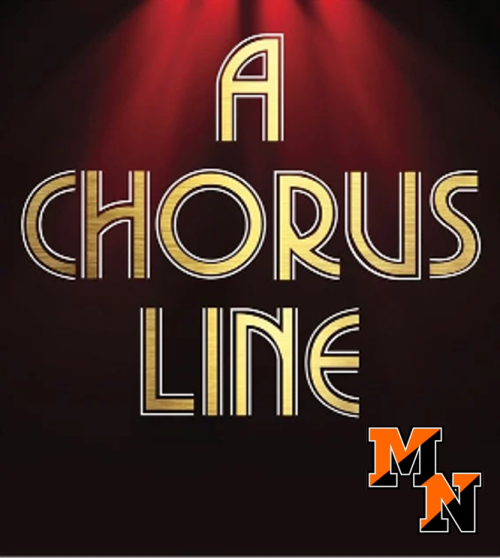 The Middletown High School North Stage Production and Drama Club will be presenting "A Chorus Line" on March 18th and 19th at 7 PM.  A 1 PM show will be performed on March 19th as well.  
"A Chorus Line" follows the stories of 16 actors auditioning to be on Broadway. The actors take turns telling their stories to the director, trying to convince him that they should be part of his show.  The Middletown North cast will feature the following performances: Tyler Salus (12th) as Don, Jessica Heitmann (10th) as Maggie, Antonio Fagliarone (12th) as Mike, Molly Bartram (9th) as Connie, Kirsten Dunn (12th) as Cassie, Alana Santiago (12th) as Sheila, Daniel Stefanski (11th)as Bobby, Jordyn Javaruski (10th) as Bebe, Madison Gibbons (12th) as Judy, Rico Gonzalez (9th) as Richie, Cole Bartolotti (10th) as Al, Daniella DeDonno (10th) as Kristine, Rebecca Grodek (10th)as Val, Bryan Reimertz (10th) as Mark, Samuel Cusson (11th) as Paul, Ava Giglia (11th)as Diana, Vivian Oliver (9th) as Lori, John Martin (1th) as Zach, and Elaina Pecora (11th), McKenna Gottschalk (12th), Nicole Schrager (10th), Ava Murphy (10th), Molly Fallon (12th), and Caroline Prince (10th) as ensemble dancers.  Allie Cassin will be the Assistant Director for the show.  
Bryan Reimertz, who plays the character Mark, shared his thoughts on the upcoming performances:  "A Chorus Line" is a vastly different musical than I have ever performed before. I would highly recommend coming to watch the show, as my fellow castmates and crewmates have truly shown their best efforts and creativity to make this show a reality.  What we have created, however, cannot be explained in words, but it can only be explained through the eyes of the audience."
Miss Amanda Faria, Mrs. Tara Mahoney and Mr. Isherwood lead the Middletown High School North Stage Production and Drama Club.  They are very excited about this upcoming performance.  
"'A Chorus Line' is an incredibly demanding and rigorous production, even for many adults. Executing this show with a high school cast is certainly a challenge, but this prestigious and hard working cast (many of whom are in the MTPS Arts Academy) have risen to the occasion. I am so proud of the blood, sweat and heart they have put into this piece. I truly hope you'll all come check it out!" Faria said.
The Middletown North students and staff have been working on this production for the past two months and the dedication displayed has not gone unnoticed.  
"I am beyond thrilled to work with this cast.  It's a cast dedicated to entertainment and performing arts and the audience is in for such a treat when they see the hard work and dedication that will definitely pay off in the end result of a fabulous show," Mrs. Mahoney said.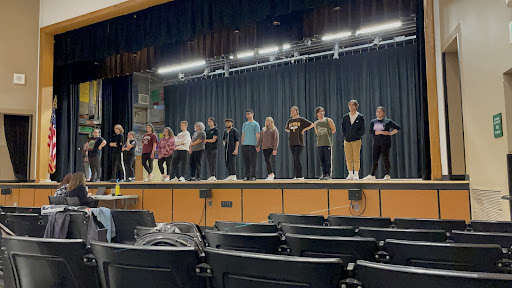 The original "A Chorus Line" was a huge success and made it an easy choice for the group to select as their spring performance.  According to www.broadway.org, "The original Broadway production ran for 6,137 performances, becoming the longest-running production in Broadway history until surpassed by Cats in 1997, and the longest-running Broadway musical originally produced in the US, until surpassed in 2011 by the revival of Chicago. It remains the seventh longest-running Broadway show ever. A Chorus Line's success has spawned many successful productions worldwide. It began a lengthy run in the West End in 1976 and was revived on Broadway in 2006, and in the West End in 2013."
Mr. Isherwood, who serves as the Vocal Director, shared his thoughts on the upcoming shows: "'A Chorus Line' is a significant vocal, musical and theatrical challenge that our North performers continue to rise to the challenge of.  As the vocal director of our production, I am consistently impressed by the commitment and talent that our cast members show. The audiences of our production will be forever changed by viewing the performance. Bravo to the students and production staff for their work and commitment to the performing arts!" 
The Middletown community is excited to see the upcoming performances led by a talented group of students from MHSN.  "Absolutely spectacular! The cast of 'A Chorus Line' is surely a group of extremely talented people. They really make the show come to life!" Jessica Heitmann said. 
Tickets will be available for $5 for students and $8 for adults.