BIG SNOWSHOES TO FILL: FROZEN II IS A SUCCESS FOR DISNEY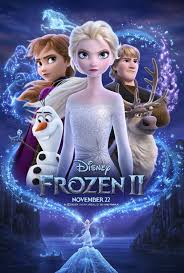 Frozen II did not manage to recreate the ingenious nature of its predecessor, but still retains all the magic, humor and fun of a Disney film.
Frozen II brought in $127 million in its United States debut, making it one of the biggest animated openings of all time, joining the likes of Incredibles 2, Toy Story 4 and Finding Dory. 
Frozen was the highest-grossing animated film of all time, but was dethroned by another Disney film, The Lion King, earlier this year.
Frozen II includes the return of an all-star cast, with Kristen Bell and Idina Menzel reprising their roles as royal sisters Anna and Elsa, Jonathan Groff as iceman Kristoff and Josh Gad as beloved snowman Olaf. 
The film's songs were written and composed by husband and wife songwriting team Robert Lopez and Kristen Anderson-Lopez. The film's score was inconsistent; there were a few stand-out songs amongst many forgettable ones. Some bright spots on the score include 'Into the Unknown' and 'Show Yourself', both performed by Idina Menzel. The songs matched the same essence of 'Let It Go' from the first film, which became somewhat of a worldwide phenomenon. 
The animation of Frozen II was incredibly beautiful and detailed. The environments and characters of the film were richly brought to life. Not a single detail was missed, from the fibers of clothes to the slow movement of fog.
A main gripe of the film was the lack of clarity within its plot.  It was difficult to follow and even by the end of the film it felt as though many questions and aspects of the story had yet to be explained. Disney films tend to have plots that are simple to follow but the same cannot be said for Frozen II. 
Overall, while a very good film, Frozen II did not live up to the high expectations that the first film created.