Declan McKenna and the Importance of Our Youth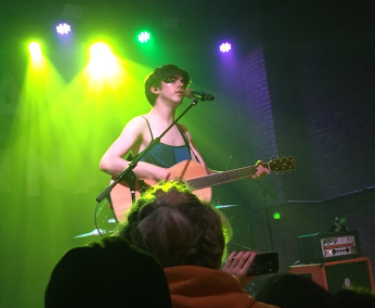 Hang on for a minute...we're trying to find some more stories you might like.
On Thursday, February 15, British singer/songwriter Declan McKenna visited Middletown High School North to speak to the Performing Arts students about the music industry and creativity in the arts. Along with an acoustic set of three of his songs ("Humongous," "Make Me Your Queen," and "Brazil"), McKenna issued a Q&A with the students to answer their questions. The Lion's Roar had an opportunity to sit down with the artist and ask him separate questions post-performance.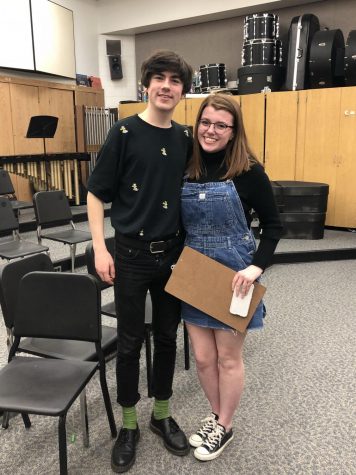 First, I have a personal question that, as a fan, I've been dying to know.  What is the inspiration behind the title of the song "Isombard?"
Isombard is essentially the name of this guy Isambard Kingdom Brunel. I spelt it wrong in the song; I did it on the demo and it just stuck. I think it also made the pronunciation of it a bit more obvious, but Isambard Kingdom Brunel built a load of stuff in London, and, you know, built bridges and just stuff that I see a lot in London. It kind of is that, and also there's a song by this punk band, kind of a comedy punk band, called The Men Who Will Not Be Blamed For Nothing, and they have a song called 'Brunel,' which kind of jokes on Isambard Kingdom Brunel, and, I don't know! I just kind of was thinking about it and needed a name for this character, and it was kind of like old and official but kind of also a weird name that people wouldn't recognize but also behind a lot of stuff that you see everyday so it was kind of cool.
In your debut album, 'What Do You Think About The Car?'  you touch on a lot of subjects that comment on politics and society. What made you decide to write about it?
All sorts. I think especially like- I was, you know, fifteen or sixteen writing a lot of the songs on the album, and it was the first time really diving into things, like really discovering what was going on in the world for myself, and wanting to change things and have an impact. You know, when I wrote a lot of them, I didn't realize that they would get released by Columbia Records, and I had all of this stuff behind them and would have millions of people hear them.  That's not something I expected, but it's great because it's kind of my fifteen or sixteen-year-old self writing these songs wanting to change things.  I see a lot of things that have gone wrong and I just thought 'I want to change that!' I see stuff that's happening to me, see stuff that's happening to my friends, and try to write stories about them, try and give some kind of perspective in their narrative as opposed to just being like 'This is bad!' or being too overly negative about it as well.
What is your personal favorite song off of the debut album and why?
I think 'Humongous'- it was the last song I wrote for the record and it felt like it summed up a lot of stuff that was going on in my life and also linked with the world, with a lot of talk about Trump and things like that at the time. Like most songs, initially I really didn't know what I was writing about, I was just getting the crooks of the song, and then it kind of expanded into a lot of things but it seemed to relate to me in a big way and it still does, nearly two years on. I just think it's a really good tune and I like how it expands and changes. It basically just feels like the most "me" song on the record.
What's your first impression of America after touring here? (Any differences, things that stand out, etc.)
The thing about America is that it's so big. So many places are so different- this is pretty much our first proper Northern city we've hit, as we've been in the South for a lot of it and obviously that's very different. The different cities are also super distinct. It varies a lot, but as for main differences-accents, definitely. The food also makes me feel a lot more gross… it's not the best, especially for a vegan. So that's different, I guess. I mean, there's obviously tons that are different, but I'm trying to think of, like, day-to-day things as opposed to how a T.V. star runs the country. Sarcasm is different here, as well. I just make a lot of jokes and realize that people get offended by them here, and I'll be like "No, I was being sarcastic!" because in the U.K. people just say horrible things and it's just banter, but yeah, I think sarcasm is a big difference between the two.
Do you have a favorite place in America from touring here?
I would say Atlanta, Georgia. I really like Atlanta- it's cool, and like, I used to watch The Walking Dead a lot so seeing the parts that are in it is nice, but also I've always just had a really good time there. We had a really rough day, actually, on this tour in Atlanta, having like two shows in one day and it was hot, and it was not fun, but we shot the music video for 'Bethlehem' just outside of Atlanta. There's just loads of fun things that I've done there, loads of great food, and all of the people I've met there have been so awesome, especially when we were doing the video. There's lots of great places in America, but I guess Atlanta just sticks out for me.
Since your audience mainly consists of younger people, what piece of advice can you offer for the youth of America?
Support each other, in everything. It's just super important for young people if they want to change things, whether they're artists, whether they're going to university- in whatever way you can. Support your friends, support people who can be one of the cogs in the machine to changing things if that's what you want. You know, it's just so important because we do live in a world where it sort of revolves around these "big fat cats," or people at the top who are raking in a lot of money. The world is built around money and credit, all these things that people need to live and need to support themselves, and it goes to the top. If it's buying a friend's EP, if it's going out and watching your friend do a talk- just like supporting each other, day-to-day, whatever that is. It's all you can do because keeping the "low-level" or the less influential people together and just supporting each other… I don't know. I think that's the way that the world changes.
Declan McKenna's album, What Do You Think About The Car?, is available for purchase and streaming on iTunes and Spotify. I am thankful for the opportunity to speak to him, credited to Ms. Lyon, and I believe that the message he encourages is one that we all need to hear.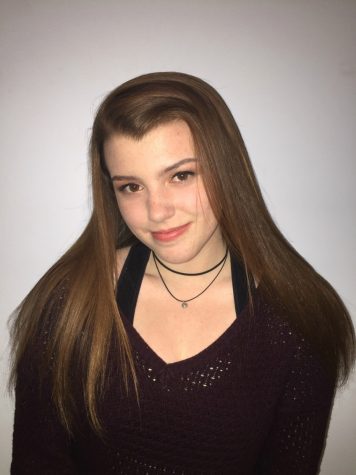 Addison Gallagher, Editor-In-Chief
I am editor-in-chief of the Lion's Roar newspaper, as well as a staff writer for Affinity Magazine. I cheer for Middletown High School North and am a...