Walker Stalker gets SILLY in Philly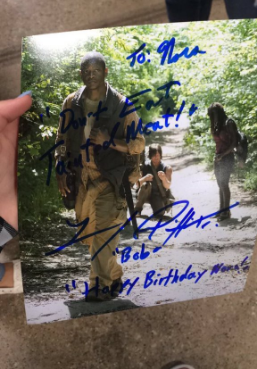 Hang on for a minute...we're trying to find some more stories you might like.
This passed weekend Greater Philadelphia Expo Center hosted Walker Stalker Con with appearances from AMC hit series shows Walking Dead, Fear the Walking Dead, and Gotham.
On October 2 at 10:30 AM general admission was let inside to meet some of their favorite stars from their favorite shows, including Walking Dead to be returning on air October 23, 9/8c. Stars Norman Reedus, Chandler Riggs, Lennie James, Michael Cudlitz, Lawrence Gilliard Jr., and many others appeared to sign autographs and meet with thousands of fans.
It was difficult to walk through the Expo Center without feeling the energy from the crowds that gathered to meet each of the stars. Screaming and chanting broke out as well as zombies, but nothing much worse.
Fans waited as long as 4 hours to meet some of the stars. The longest was line for Walking Dead's Norman Reedus.
Lawrence Gilliard Jr., who plays Bob on TWD, was greeting fans and pulled one family to the front of the line after they screamed one of his famous lines from the show, "TAINTED MEAT"  offline. "It was amazing meeting Daryl (Norman Reedus). He silly stringed my sheriff hat and hugged me and told the people on the line it was my birthday… Then we screamed to Bob (Lawrence Gilliard Jr.) and he pulled us all to the front and gave us free autographs after answering a Walking Dead question right." Fifteen year-old Nora Lombardo of High School North stated.
The WSC and Walking Dead cast will be making appearances at more conventions and Comic Cons around the country, however the energy flowing the the room in Philadelphia was like no other.