MHSN Lady Lions Tennis Have Smashing Start to the Season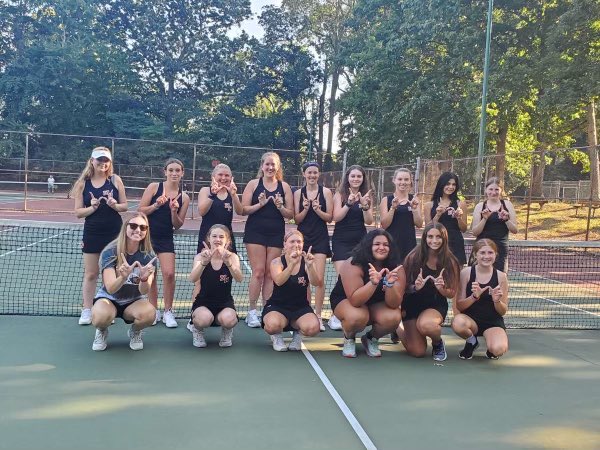 The Middletown Highschool North Girls Tennis team is on a roll this season with a 6-3 record, consisting of victories over Howell, Red Bank Catholic, Freehold Boro, Wall, Manalapan and Manasquan. 
After a tough loss against their rivals, the girls are determined to beat them next time. Coach Christine Kenny thinks that the girl's have got a great shot at it. 
"South provided us a tough competition the first time we played them. I think that the additional match experience and the rest of the season will provide us, the level of competition and confidence we give will be much higher. I am looking forward to the match when we visit South again in October."
Every player this season has put forth outstanding efforts and their confidence levels have increased throughout the season thus far.  "All of the doubles players have improved so much in just six weeks. Doubles partners are strategizing together, as well as thinking of where to place the ball, resulting in some excellent doubles matches," Kenny said. 
The team's doubles players include the following: 1st Doubles – Gabriella Dowlen and Caitlin Mahoney, 2nd Doubles (A) – Isabel Kobilas and Caroline Prince and 2nd Doubles (B) – Aidan McKenna and Sydney Lehotsky. 
With the terrific tennis seen so far this season, many have a feeling that the team can exceed the coach's expectations as they approach the Monmouth County Tournament. 
As the team approaches the end of the season, Coach Kenny offered some wise advice. "Some words of wisdom that I have for the tennis team is that we play a sport that challenges you mentally and physically for multiple hours at a time. It can be exhausting fighting by yourself when you are already two hours into a match. It may just be you on the court by yourself, but you have your whole team, as well as myself, supporting you. You do not have to win everything, but you have to try to be a better player than you were the day before. If you are ready to challenge yourself in that way, you are not only ready for tennis, but for wherever life takes you."
Be sure to support the girls as they finish out the rest of their season!