Lady Lions Soccer Advance to NJSIAA Tournament Semi-Final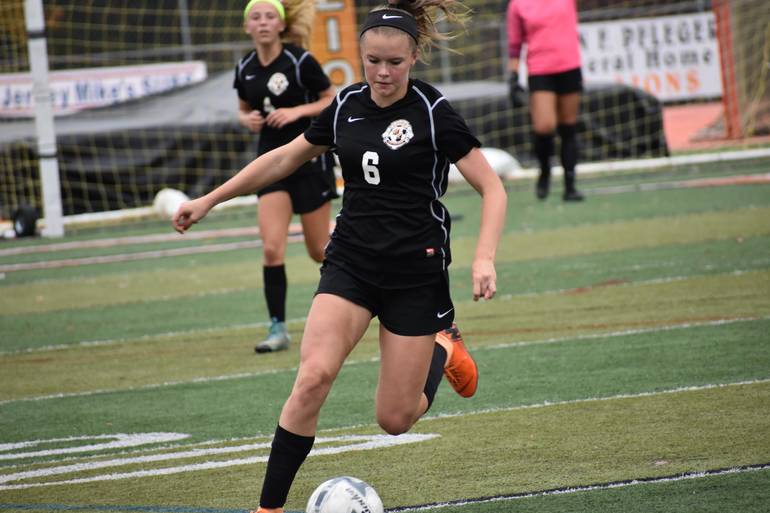 Lion's Roar Staff, Writer
November 6, 2018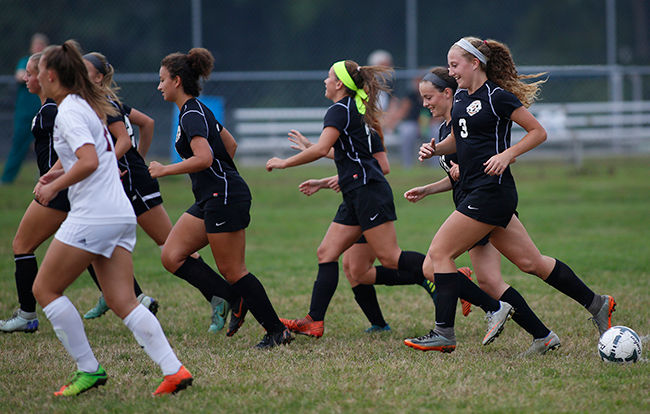 MIDDLETOWN, N.J. – The Middletown High School North Lady Lions girls soccer team advanced to the semifinals of the NJSIAA North Jersey Section 2, Group 3 Tournament with a 2-0 victory over crosstown rival Middletown High School South on Friday.
Middletown North was led by goals from Hayley Stratton and Kaleigh Harmon who helped the No. 1 seeded Lions defeat No. 4 Middletown South in the highly anticipated quarterfinal match-up hosted at the Lions Den.  This game was not only important because of championship ramifications, but because of the rivalry of the two schools. Having both schools ranked in the top 5 made this game even more intense. Middletown North coach Patricia Misciagna stated the feeling between these two schools: "North-South games are always a battle."
The Lions opened the scoring with a corner kick from Allie O'Keefe that was put in the net by Stratton in the first half.  With only a few minutes left in regulation, Senior Kaleigh Harmon sealed the victory with a goal making the final 2-0. The Lions also received a great effort from the overall team defense and goalkeeping of Senor Haley Martin.  Martin made 11 saves against Middletown South and posted her 10th shutout of the season and her second consecutive shutout to start the New Jersey State Tournament.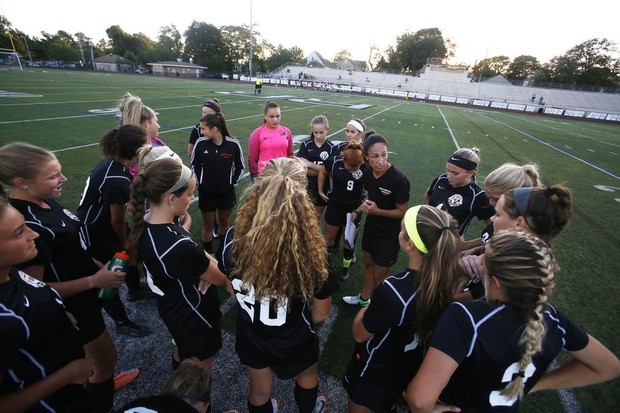 With the win, the Lady Lions improved to an overall record of 19-1, while the 2017 defending sectional champion Eagles finish the season with a 8-9-4 record.  The Lions are looking to keep momentum going as they head into a semifinal contest between West Morris High School on Tuesday November 6 at 2:00 PM at MHSN.  Coach Misciagna believes that her girls understand how special this season is, but also realizes that the approach taken is just as important.  "It's win and advance," Misciagna said. "Our girls want to keep playing. We have a lot of seniors on this team that want to extend this season and it starts with playing one game at a time."
Good Luck Ladies!  Bring Home That Title!
Videos courtesy of Steven Bassin Twiiter: @SBassin_Sports
PLAYER OF THE GAME: Kaleigh Harmon on her goal with 2:19 left to play to help Middletown North seal up a 2-0 win over Middletown South to advance to the semifinals of the NJSIAA North Jersey, Group 2 Tournament. CC: @mhsngirlsoccer @NorthGirlSoccer @holmdelcntap #NJSoccer ⚽️ pic.twitter.com/Hri1StflT4

— Steven Bassin (@SBassin_Sports) November 2, 2018
GOAL MIDDLETOWN NORTH: Kaleigh Harmon puts the moves on the Middletown South defense & fires in a goal with 2:19 left to give @mhsngirlsoccer a 2-0 lead. She's got some moves for sure. CC: @sherlonapp @holmdelcntap @BrandonGouldHS #NJSoccer⚽️ pic.twitter.com/Vw0OIYykhS

— Steven Bassin (@SBassin_Sports) November 2, 2018
Photos Courtesy of App.com & NJ High School Sports