Middletown North Basketball Teams are the Roar of the Shore!
Hang on for a minute...we're trying to find some more stories you might like.
The Middletown High School North Boys and Girls varsity basketball squads are starting to peak at the right time.  Both teams entered the Shore Conference Tournament earlier this week and were victorious in their opening round match-ups.  Both programs have featured strong senior leadership down the final stretch of the season and are hoping that this strong play will continue.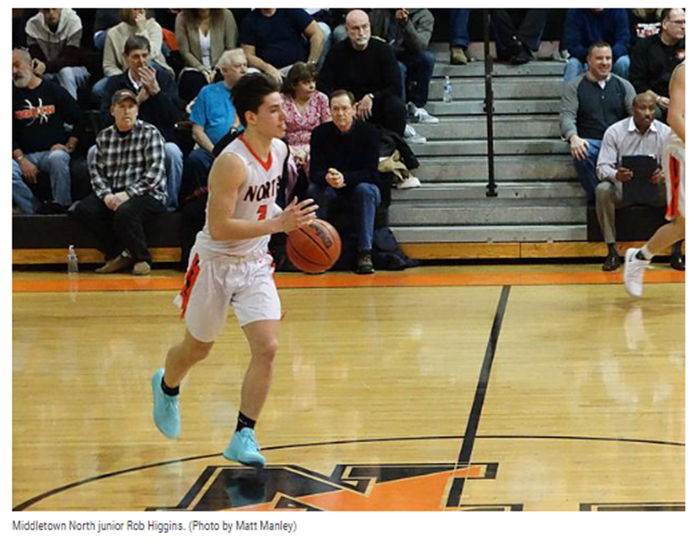 The boys hosted Howell High School on Tuesday night at the Lions Den and won by a score of 63-53. Junior Rob Higgins scored 29 points to give the Lions their eleventh win of the season. Seniors Sky Cherry and Dave Campbell combined for 21 points in an amazing fourth quarter which featured a 21-6 Middletown North scoring run.  Higgins, who joined the 1,000 point club earlier this year, is on pace to be one of the Shore Conference all-time leading scorers. The Middletown North Lions Boys team will travel to play No. 3 seeded Rumson-Fair Haven in Thursday's round of 16 at 6:30 pm.  Coach Mike Iasparro believes that the boys are starting to play well together and feels that this strong chemistry can lead to a successful finish to the 2017-18 campaign.
 The girls basketball program under first year head coach Justin McGhee is also having a fabulous year.  The Lady Lions entered the Shore Conference Tournament on Tuesday posting a 12-7 record and were looking to continue their successful campaign.  The No. 15 seed Lady Lions hosted No. 18 seeded Raritan and came away with a 42-37 victory.  Just like the boys squad, the Lady Lions have been getting strong performances from the senior class.  Kiera Williams played a huge role in the victory by scoring 9 points and dominating the glass with 8 rebounds.  Senior Caleigh McAnuff, last week's Asbury Park Press Player of the Week, scored 15 points to advance the girls to a second round tournament game against Manasquan on Thursday in the Sweet 16.
Girls Hoops: Middletown North's McAnuff named Shore Conference Player of the Week http://on.app.com/2nUOaJE via @AsburyParkPress
Great Job Lions!