"Le Croque Monsieur"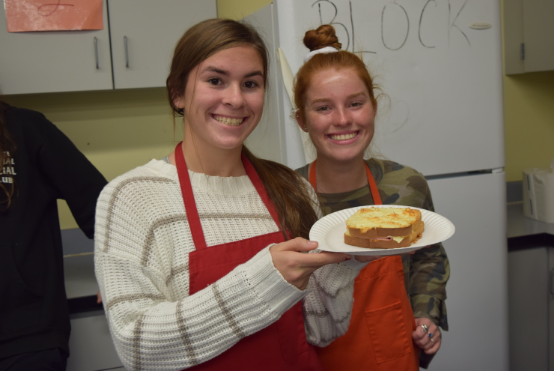 Casey Bogues, Staff Writer
December 18, 2018
Middletown HS North ー On Monday December 10 and Tuesday December 11, 2018 Mrs. Sandone and Ms. Hanson's Culinary classes welcomed in Madame Jones' French classes to make a meal together.
The students completed a research project on French cuisine, Le Croque Monsieur.  The English translation is Mr. Crunch. Le Croque Monsieur is a piece of bread with bechamel sauce spread on top of it. It is then topped with a piece of ham, a slice of Swiss cheese and a sprinkle of Parmesan cheese. Another piece of bread is then placed on top with bechamel sauce spread facing up and sprinkled with shredded cheese and Parmesan cheese. It is baked until the cheese is melted.
The French students then presented their findings about the many variations of Le Croque Monsieur, like Croque Madame, Croque Provencal and Croque Auvergnat, to the culinary students.  In return, the culinary students cooked Le Croque Monsieur for the French students to enjoy.
"It's surprisingly good!" Danny Burke, a freshman and one of Madame Jones' French students, exclaimed!
The French students and culinary students enjoyed working together on this collaborative project and the end result was delicious!