North Students Present Pathway & Academy Success to Middle Schools
Hang on for a minute...we're trying to find some more stories you might like.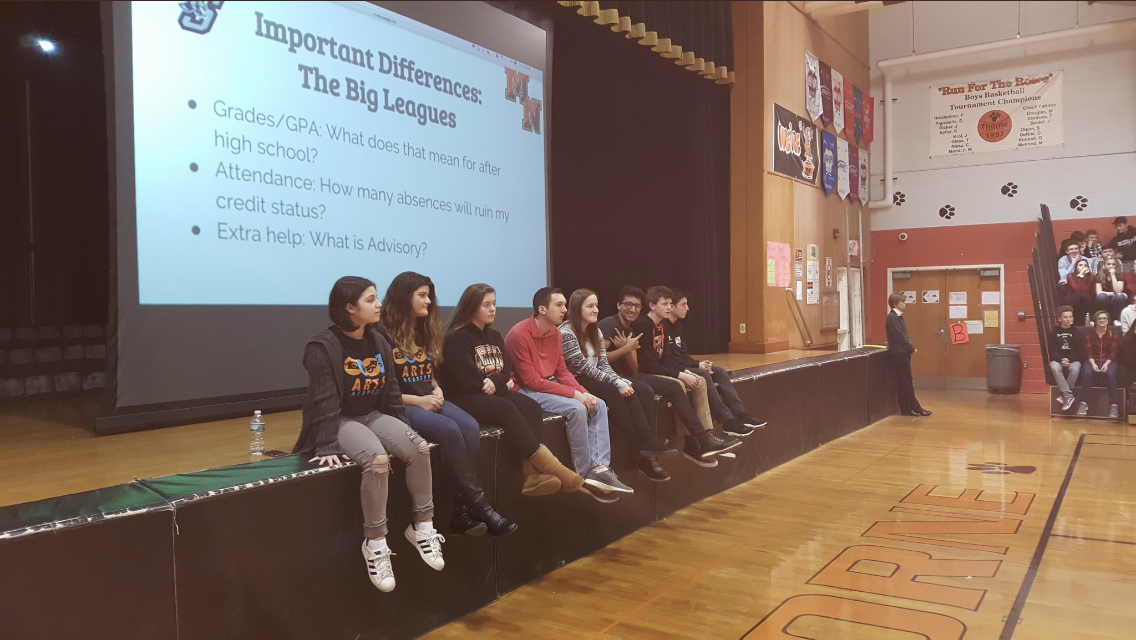 On Friday, January 4, 2019, eight student from Middletown High School North visited Middletown Township district middle schools, Thorne, Thompson, and Bayshore. While the students were at the school, a presentation was held and they were able to share their personal experiences with the Pathways and Academies to the middle school students.
Cade Riegler, Mary Mcmullan, and Aryan Sharma represented the Science- Technology- Engineering- Math (STEM) Pathway. They were able to talk to the students about how this pathways purpose is to provide students with a foundation of STEM subjects that will benefit them in college or other careers. They were also able to talk about all the different speakers they have had the opportunity to meet and all the different advanced technology they have been exposed to.
Justin Bartoloti represented the Business, Management and Administration Pathway (BMAP). He talked about the different classes this pathway offers, such as Accounting, Introduction to Business, and Business Ethics. He also talked about how students in this pathway are always being informed about college visits, field trips, assemblies, and internships.
Connor North represented the Early College Academy. He was able to talk about the requirements for this academy. How you need to enroll in Algebra II honors and other honors class. He was also able to explain how when he graduates he will receive his high school diploma along with an Associates degree.Michaela Foley represented the Government, Law, Justice and Public Policy Pathway (GLP3). She talked about how whether you are interested in becoming a lawyer, politician, reporter, FBI agent, police officer, or simply an informed citizen, the GLP3 pathway opens your mind to what you can do in to society in your future. She also talked about all the different speakers she was able to meet and all the different classes that are offered.
Kirsten Dunn and Shannon Solazzo represented the Arts Academy. They were able to explain the different tracks offered in the Arts Academy. There is Fine and Applied Arts, Theater/ Drama, Instrumental Music, Choral/ Vocal Music, Digital Media Arts and Design, and Dance. The also talked about the audition process to get into the Academy and how this program is only offered at Middletown High School North.
When the presentations concluded, it was noticeable that the middle school students had a found interest in the Pathways and Academies because they were asking teachers and students questions about the Pathways and Academies and where they are able to find more information. The trip to the middle schools was in all a success because the high school students were able to connect with the middle school students and they were able to get them more interested in the Pathways and Academies.
Additional Information can be found out: https://www.middletownk12.org/Page/9016