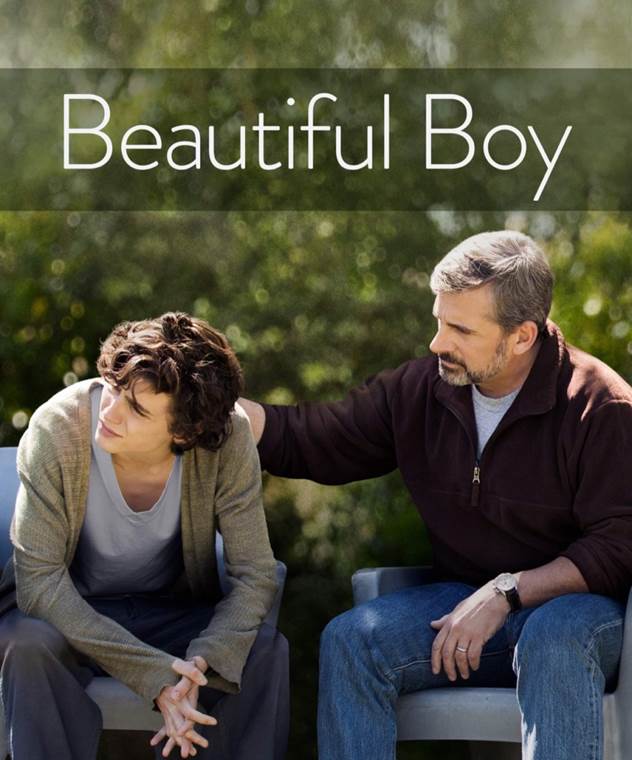 Beautiful Boy Poster via Amazon Studios
Starring: Timotheé Chalamet, Steve Carell
Beautiful Boy, written and directed by Luke Davies and Felix van Groeningen, is based on the memoirs from Father and Son David and Nic Sheff. Beautiful Boy encapsulates the heartbreaking but motivational reality of addiction, survival, relapse, and recovery within a family over the course of Nic Sheff's adolescence into adulthood; a topic very relevant yet not brought into the spotlight enough in today's society.
The actor representing Nic Sheff is French-American Actor Timotheé Chalamet who has made a large name for himself on the big screen in recent years. The heartthrob has starred in noteworthy and Oscar-nominated pictures including, Ladybird with lead actress Saoirse Ronan and Call Me by Your name alongside actor Armie Hammer.
Steve Carell fully immerses himself in portraying this character as he can relate to David Sheff's paternal instincts. It is a parent's worst fear to see their child struggling with addiction and Steve Carell executes the part flawlessly. Carell has been in the business for many years starring in not-so-serious productions such as The 40-Year-Old Virgin, Despicable me, and well-known show, The Office. Seeing Carell in such a serious and demanding role provides great contrast in comparison to his past experiences in the industry and will further broaden his horizons as an actor.
The movie was comical and lighthearted, while also being clear and accurate to actual events. It has family scenes that made me smile, but also some difficult scenes. I would be lying if I said I didn't cry at all throughout this movie. You feel for David and Nic Sheff, David's need to keep his son safe and Nic's struggle to be better and a role model for his siblings, but being engulfed by addiction. This is a movie that I not only saw once but twice. I believe that this was a riveting story and touched many hearts while filming and also the audience who watched. Definitely at the top of my list for best movies I have ever watched. Due to the graphic scenes involving drugs and violence and sexual activity, the movie is rated R and geared toward older adolescents and an adult audience. I recommend this movie to anyone who has known someone who has struggled with addiction and also anyone who would like to be more aware of the effects that drugs can have on a family and on an individual. Truly a movie worth watching and re-watching.